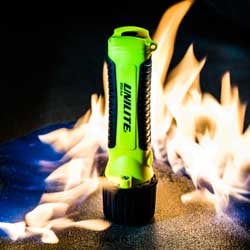 Working in the dark is dangerous. Tasks needs sufficient light on the subject for workers to be safe and to carry out the job in hand. But in an explosive atmosphere, the wrong light can be as dangerous as no light.
When flammable gases, mists, vapours or combustible dusts are present in the atmosphere, and mix with the oxygen in air, all that's needed is a source of ignition to cause an explosion. And sometimes, even something as seemingly innocuous as a torch can be that source.
So if you work in an explosive atmosphere and need personal lighting, you need a torch that's designed for use in ATEX zones.
Unlimited lighting
The Unilite ATEX Zone 0 range of personal torches is specified for the maximum grade of safety protection – which means no workplace is off limits for their use.
36 years of experience have gone into developing torches which can be used with confidence wherever there's an explosion risk, and which have been proven in a range of industries.
Bright ideas
Two special features make Unilite ATEX Zone 0 torches suitable for use where others would be a safety risk.
In ordinary torches, hazardous gases can build up inside until they create a explosion risk. In Unilite ATEX torches, a safety release valve releases these gases before they can become a danger. In addition, the torches have a safety-locking battery compartment, to prevent the batteries from coming into contact with any hazardous substances.
Together, these two features earn the torches their ATEX Zone 0 accreditation, and give users peace of mind wherever they're working.
Of course, bright ideas are one thing you want in a torch, but a bright light is another. So Unilite ATEX Zone 0 torches are fitted with high-powered CREE LEDs, which provide a reliable high-level lighting output.

Light work
Different tasks demand different types of torches.
Someone repairing equipment, for example, needs both hands free. A torch with the beam at right angles to the torch body can be more convenient than the traditional design in some situations. Or perhaps you simply need a small and handy light for illumination when you're making notes, or taking a quick glance into a dark area.
Unilite has ATEX Zone 0-rated solutions for all those situations.
Choose from two different head torches (140 or 200 lumens), a right-angle torch, a flashlight and a safety penlight, with complete confidence that they will be perfectly safe to use whatever environment you're in.
Proven in use with fire services, in the petroleum industry, at power stations and in the haulage industry, the Unilite ATEX Zone 0 range is the shining example for safer torches.
Related Posts