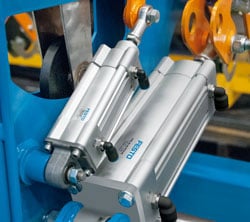 Correct product positioning is an important aspect of many production processes. But if it requires adjustment for every item passing along the line, then throughput and productivity are hugely compromised.
For example, accurately and consistently cutting board to the correct size and shape relies on the sawing machine correctly positioning every piece of uncut board before cutting begins. And that's with board which can pass through the machine at up to 75 sheets a minute.
If the end-position cushioning had to be manually adjusted, that speed could never be maintained. Which is why the Festo DSBC-PPS has proved such an effective component of one manufacturer's sawing machines.
Always perfectly controlled
The Festo DSBC-PPS is a standard cylinder with one valuable additional feature: self-adjusting pneumatic PPS cushioning.
This entirely eliminates the need to adjust the end-of-stroke cushioning, because it adjusts itself – with perfect accuracy every time. So continual adjustment of numerous cylinders is no longer required, which saves engineers' time and simultaneously increases throughput. In fact, the self-adjusting capability of the DSBC-PPS is estimated to save no less than 10 minutes of adjustment time per cylinder.
However, self-adjustment and reduced installation time are not the only benefits of the DSBC-PPS.
Prepare for a shock
Because the self-adjusting cushioning always reacts correctly to each individual load, it's less affected by shock. That means there's less wear on the cylinders, which increases service life.
Less shock also has the added benefit of reducing noise levels, making a more pleasant working environment and creating one less health hazard for machine operators.

One module, multiple profiles
The DSBC cylinder is a standards-based product, to ISO 15552, available in three different profile shapes and with a range of accessories.
The standard DSBC profile has:
two sensor slots, with the option of additional slots on three sides.
The DSBF profile is:
a clean-design cylinder with smooth surfaces, large radii and an absence of dirt traps
The DSBG profile is:
a powerful, large diameter cylinder, with a round barrel and tie rods.
The DSBC is also available with a clamping unit (DSBC-C), end-position locking (DSBC-E1/E2/E3) and with a protective bellows kit (DSBC-P2 DADB). All these variants come with a standard hole pattern, and offer the option of rotation protection.
The cylinder is low weight, and has an extensive range of accessories, including:
Foot mounting
Flange mounting
Trunnion flange
Swivel flange
Multi-position kit.
This combination means it's possible to install the DSBC in almost any location.
Adjusted to their environment
Even in a harsh operating environment – such as the dusty atmosphere of a saw mill – DSBC cylinders operate effectively, and have a long service life. However, if maintenance is required, all connection and adjustment points are on one side only, making access quicker and easier.
It's also quick and easy to select the DSBC you need for your application, because there's no need to consider the cushioning. So you really can relax..
To find out more, call your local service centre on 0845 006 6000.
Related Posts