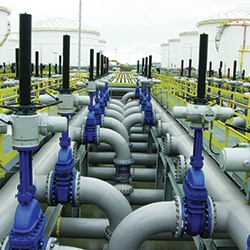 The Tank Storage Conference and Exhibition is the UK's leading event for the bulk liquid storage sector. The event has a proven track record of successfully bringing together people who care about safe and effective bulk liquid.
The conference programme features presentations from Government, Regulators and industry experts on topics which are of key interest to those who operate in this sector.
So naturally you'd expect to find ERIKS' dedicated tank storage team in attendance at Stand 26 on the 28th September 2017.
ERIKS will be exhibiting a range of tank storage products including:
Valves with and without actuation

Flame arrestors

Breather valves

Emergency vents

Hatches

Blanketing valves

And a dual expanding plug valve from our own factory
And if your tank springs a leak, ERIKS has the answer to that too. The Optical Gas Imaging camera which will be demonstrated at the show is a highly effective and safe method of detecting and pinpointing leaks of around 30 different gases.
For more information on the event, visit the Tank Storage Association (TSA) website here.
Related Posts: