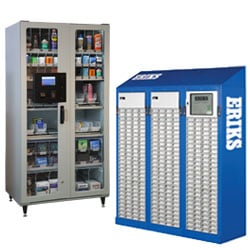 The benefits of vending machines are widely known but thanks to a new solution, now available from ERIKS, organisations can not only take greater control of cost and inventory, but also increase accountability and security on site.
Featuring state-of-the-art hardware and cloud-based information management and reporting, the latest vending solutions can help reduce product consumption by as much as 40 per cent where no existing system is in place. The two solutions currently featured are the Apex "Edge 5000" and the Supply Point "Rotopoint".
The Edge 5000 is a "Coil" machine for single item dispensing of up to 60 different SKUs in flexible configurations and supporting a wide range User ID & Reporting options. The Rotopoint offers
reconfigurable compartments and is available in six different sizes, with the ability to support low or high volume transactions and offering a secure product return capability.
In addition, each machine has the potential for expansion and can support the management of large and difficult to store items which have traditionally been difficult to control. Depending on the needs of the organisation, there is a comprehensive range of machines available which can handle the most
demanding stock management requirements.
Related Posts