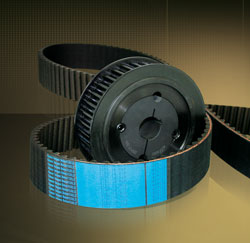 There's a revolution taking place in many manufacturing plants. A revolution led by engineers who want freedom.
Freedom, that is, from all the negatives and disadvantages associated with traditional chain drives. Freedom to upgrade instead to belt drives. And freedom to benefit in all kinds of ways as a result.
With all the advantages that belt drives offer, it has to be wondered why anyone would continue to use a chain drive where upgrading is a practical option. Unless, perhaps, they've been deafened to the arguments, by the noise that chain drives create as they operate.
In fact, freedom from that chain drive rattle is one of the most immediately noticeable benefits of making the switch.
But upgrading to belt drives is not just about making life more comfortable for everyone within earshot of chain-driven equipment. It's also about:
Reducing downtime
Being more cost-effective and
Being more efficient.
Maintenance-free
Freedom from maintenance is another of the fundamental freedoms offered by belt drives.
Whereas chain drives tend to elongate with wear and need regular adjustment as a result, belt drives maintain their original dimensions.
Chain drives also require regular lubrication. But upgrading to a belt drive offers freedom from that chore too. Though again, it's not just about making the engineer's life easier and more pleasant. Freedom from lubrication means freedom form the associated costs, as well as elimination of the risk of oil contamination of the machine or – worse still – of the product.
Room to be free
In the past, upgrading to a synchronous belt drive did have one disadvantage. Space limitations could make an upgrade an impractical option for some applications in some situations.
However, the new Fenner Torque Drive PLUS 3 (TDP3) synchronous belt drive offers freedom from this problem too. It's a straight swap into the same size and space as an existing chain drive, on standard HTD pulleys (for optimum performance) – yet delivering a greater power rating.
The TDP3 represents state-of-the-art belt engineering, providing the ultimate combination of power capacity, low noise and high accuracy in a belt drive – and all in a compact package.
Free Time
The final freedom offered by the synchronous belt drive is free time. Or in other words, a longer service life than a chain drive.
The typical working life of a chain drive is around 9,420 hours. The Fenner TDP3, on the other hand, gives you around 10,000 extra hours – effectively for free – with an operating life of around 20,000 hours.
Free to choose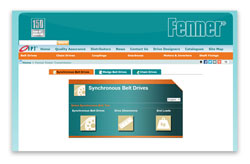 Selecting the correct belt drive to replace your noisy, inefficient chain drive is easy, using the Fenner Drive Design Selector

Simply enter a few details about:
The prime mover
The driven machine
How many duty hours per day you require
Belt centre distance and a few other options.
The Selector will then calculate the correct Fenner TDP3 synchronous belt drive for your application, to upgrade from your existing chain drive. Of course, you can also use the Selector simply to determine the correct specification Fenner belt drive for a new application.
To find out more about the Fenner TDP3, visit the TDP3 page on the Fenner website or contact your local ERIKS service centre.
Related Posts