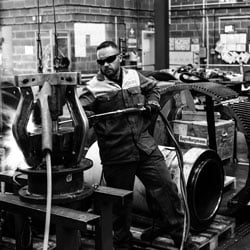 Manufacturing industry traditionally has two options for service and support. Either they deal with a local, possibly independent supplier with focused and specialised capability across a limited range of products which means several suppliers to create one solution. Or they call on a national operation with a centralised resource, which inevitably means a less personal, less responsive, potentially slower service.
But now they can choose a third option from ERIKS and get the best of both worlds.
The first approach could be described as "regional" and is local. The second revolves around a single national "hub". So ERIKS has looked closely at customer requirements and the best way to meet the combined requirement for availability with capability – bring together the two options – in seven new "Regional Hubs".
Spanning the country from Aberdeen to Maidenhead, Swansea to Norwich, Birmingham in the Midlands to Leeds in the North, the Regional Hubs place a combination of products, logistics and engineering know-how where they can be quickly deployed to support customers, and where they can provide valuable back-up to ERIKS local Service Centres and Onsites.
As ERIKS UK CEO Steve Waugh explained at the launch of the Regional Hubs' concept: "Our investment in new Regional Hubs is designed to bring all of our capabilities closer to the customer, both geographically and technically."
"Supporting the products we supply... from cradle to grave"
Going further, nearer
There are many local independent specialists who offer a flexible and responsive service to their geographical area. That kind of on-the-doorstep offering is hard for a centralised service to compete with.
However, though these local services may be convenient, they're certainly not comprehensive nor do they have the same level of resource to call on.
Often, they're provided by a specialist: in gasket cutting, hose assembly or drives, for example. Which is fine when you want a gasket, or a hose, or a drive. But what if you need a drive, pump and the associated gaskets, valves and a hose assembly at the same time? And want them all fitted together and installed? And want to know you can expect expert maintenance and support for their whole service life?
That's when you need the kind of all-round product knowledge and support which a national supplier with centralised support can offer, eventually. Or which an ERIKS Regional Hub can offer quickly, locally and cost-effectively.
One ERIKS Regional Hub will provide it all -
A trusted partner helping customers

Capabilities closer to the customer, geographically and technically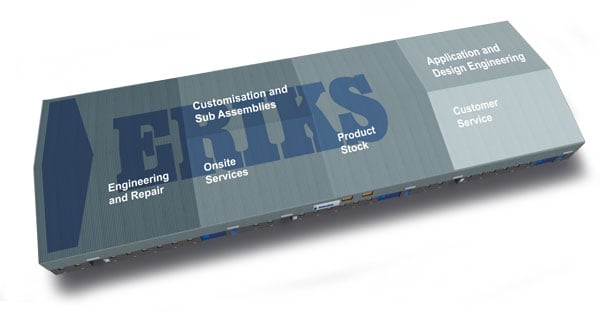 Life means life
The most successful companies are well aware that equipment purchasing decisions should not be based on purchase cost alone. The whole life cost – often known as the Total Cost of Ownership or TCO – is the truly relevant figure, and the greatest savings can usually be achieved through realising efficiencies and cost reductions in maintenance and operations.
Expanding on the concept of ERIKS' Regional Hubs at their launch, Steve Waugh went on to make clear that "We will support our customers throughout the lifecycle of their industrial products, from selection, customisation and tailoring of solutions, through to ongoing servicing, maintenance and repair, up to the end of life and decommissioning. The ultimate goal is to support the products we supply to our customers throughout their entire life cycle, from cradle to grave."
ERIKS' comprehensive know-how means this approach will lead to far more than simply better maintained, more efficient machinery.
As a leading global supplier to a huge range of industry sectors, ERIKS is exposed to new ideas and innovations on a daily basis – many of which are transferable between sectors.
The result is that ERIKS is not just a supplier or an MRO provider. Instead, the company can be a trusted partner helping customers to discover and implement upgrades and improvements, to meet or exceed production and performance expectations and targets, and to optimise unit costs.
At the new ERIKS Maidenhead Regional Hub, for example, 70% of engineering work provided is carried out on the customer's site. That's not simply a standard supplier's service. That's a partnership which helps the customer's maintenance and production teams achieve and exceed their goals.
Structured for service
The difference the new structure makes is that the know-how and resources – including a manufacturing capability for those gaskets, hoses, drives, seals, valve packs and so on – will all be available much closer to where its needed and all from one location: the Regional Hub.
Customers will have no need to search for a local supplier for each individual product or task; no need to wait for a national supplier to be able to get someone on the ground; and no need to try to co-ordinate different resources and capabilities. One ERIKS Regional Hub will provide it all.
This comprehensive service, positioned right where it's needed, will ensure that ERIKS is in touch and in tune with customers, that timescales are optimised and that projects are kept on track. In fact, the Regional Hubs structure will enable ERIKS to operate as an extension of a customer's maintenance, engineering and indirect supply chain teams.
The engineers that ERIKS work with have an extensive knowledge of their own products and the processes required in their manufacture, whilst ERIKS have an in-depth knowledge of the components those machines require. From innovation and energy efficiency to the ever changing legislation that surrounds them. ERIKS' know-how will be invaluable in providing a broader overview which supplements and complements the customers' own knowledge and experience.
Exceptional Service at Every Level
Technology Centre
Home of a Product Business Unit (the new name to replace Core Competence Centre or CCC) undertaking product design, innovation and development often in conjunction with key brands and supply partners, building and managing supplier agreements and relationships, engineering turnkey solutions for large projects, owning and developing OEM business, supporting and developing technical knowhow for all ERIKS operations.
Regional Hubs
Strengthens ERIKS local knowhow operating as a complete and comprehensive business unit supporting local service centres, integrated and onsites along with their own customers with engineering capability, parts customisation, commercial knowhow, application engineering and logistics across the complete ERIKS core product and service offering.
Technical Service Centres
Service centres with additional areas of capability such as engineering/repair or customisation in specific product areas such as gasket cutting or hose assembly with the supporting application engineering anchor points. These sites will be located in areas with high demand for specific capabilities required by local industry.
Service Centres
Support and service the ERIKS broad customer base calling on specific support from regional hubs or Technical service centres as and when required, these teams have the strongest relationship with our customers helping them achieve their specific goals and objectives.
Onsite Service Centre
Located on a customer's site to support the selection and specification of core products with support from technical specialists and the logistics operations of ERIKS.
Integrated Solutions Service Centre
Located on a customer's site owning some or all of the indirect supply chain from specification, purchasing, stores, asset management and technical/application support directly integrated with the customers systems and procedures.
Related Posts: