How does a split bearing work, how is it made, and what is the technology behind it?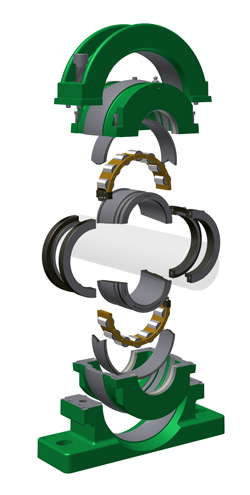 Split bearings have been commercially available for around 90 years, used primarily in demanding applications in arduous conditions where accessible bearing inspection and easy maintenance are required. The bearing is made up of the inner and outer races, the cage, the housing and the support (all separate). This allows simple inspection and easy replacement, without the need to remove the bearing from the shaft or the shaft itself.
The components of a split bearing are manufactured as complete parts, and after grinding are very accurately cut into 2 sections, so that when they are assembled around the shaft, the components match perfectly. The performance of a SRB Split roller bearing closely matches that of a comparable sized solid roller bearing, in terms of speed, capacity, ability to take misalignment, and sealing options.
The complete range of split roller bearings incorporate a number of innovative features that assist not only the user in terms of product performance, but also the maintenance engineer with fitting and assembly benefits. Many bearings are typically located in hard to reach places and often require considerable downtime to replace. SRB split roller bearings from Revolvo allow for minimal disruption to machine and plant operation during the installation process.
The benefits of a totally split to the shaft bearing are long established with savings in production and maintenance well documented. However, split roller bearings are now being selected for a wide range of applications based on other benefits they provide, including:
High Radial Load and Speed Capability offer

ing life and performance advantages

Initially Self-Aligning minimising expensive alignment of other equipment

Wide range of standard supports to accommodate a wide range of mounting solutions.

Flexible Sealing Arrangements extending bearing life in harsh environments

Interchangeability, each sub-assembly (support, housing and bearing) is universally interchangeable within our own range and those of other manufacturers

New Single Piece Cage Clip Design, offering not only accurate cage alignment but also offering the maintenance engineer a free hand whist assembling

Pry Slots on all dowelled machined joints for easy separation of the housing & support

Intuitive Assembly made easy by match markings to ensure correct positioning and orientation of all parts
Achievable savings switching to Revolvo Split Roller Bearings
| | | |
| --- | --- | --- |
| | Current Bearing | Revolvo Split Bearing |
| Cost of bearing | £500 | £2,500 |
| Est. time of outage | 10 hours | 3 hours |
| Number of men needed to replace bearing | 3 | 1 |
| Overhead rate of man/hour | £15.00 | £15.00 |
| Production loss/hour | £4,000 | £4,000 |
| Labour cost for outage | £450 | £45 |
| Production loss for outage | £40,000 | £12,000 |
| Labour cost + production cost | £40,500 | £12,545 |
| Bearing + Labour + Production Loss + Equip Loss | £40,950 | £14,545 |
For more information and a detailed application assessment contact your local ERIKS Service Centre on 0845 006 6000.
Discover more on the Revolvo range of Split Roller Bearings can be found by clicking the link below.