Motor-driven equipment for light to medium-loaded applications – such as pumps, compressors and fans – consumes roughly 1.36 trillion kwh per year in the EU and us alone. So anything which can reduce friction and increase industrial electric motor efficiency will make a major contribution to cutting energy consumption worldwide. The new bearing family from SKF is one such important development.
SKF Energy Efficient (E2) performance class bearings have been specially engineered and manufactured to reduce frictional moment by 30% or more beyond the already efficient SKF standard bearings. Which means that compared to other manufacturers' bearings, reductions can be even more dramatic.
Friction loss is energy lost
All bearings reduce friction, and therefore the amount of energy that machinery requires. The SKF Energy Efficient (E2) performance class bearings push this inherent advantage to a new level. Their ultra-low friction makes them an excellent way to reduce energy consumption. In addition, because they can run cooler than SKF standard bearings at equivalent loads and speeds, they may also reduce lubricant use, and potentially extend the life of equipment.
Family likeness
There are many types of SKF Energy Efficient (E2) bearings covering most bearing types – and all of them offer a minimum 30% reduction in friction loss compared with their conventional equivalents.
SKF Energy Efficient Deep Groove Ball Bearings have been designed using advanced SKF modelling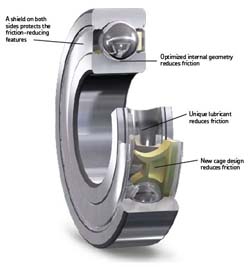 tools, and drawing on all relevant SKF core competency areas – from bearings to seals and lubrication systems. E2 bearings run 5–30°C cooler than an SKF basic design bearing, depending on operating conditions. This lower operating temperature extends the service life of the grease, and can prolong bearing service life beyond that of a comparably-sized, basic design shielded bearing.
SKF E2 Y-bearings are intended for applications where reduced energy use is an important issue. Under normal operating conditions, these bearings have a considerably longer grease service life than a standard SKF Y-bearing. They can therefore also offer significantly reduced lubricant consumption. SKF Energy Efficient (E2) Y-bearings are available in three different series with different locking methods. E2.YAR 2 bearings, with the grub screw locking method, and E2.YET 2, with the eccentric collar locking method. E2.YSP 2 bearings, with the SKF ConCentra locking method.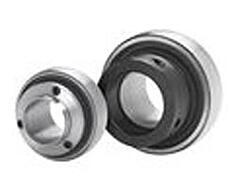 Bearing benefits
All types of SKF E2 bearings significantly reduce friction, which guarantees a number of benefits. The most immediate is lower energy consumption, which in turn means lower energy costs. The longer service life and longer grease service life will also help to lower the Total Cost of Ownership, offering longer-term benefits. For OEMs, bearings with lower friction enable the building of higher-efficiency machinery – which benefits the end-customer too.
And with the drive to cut energy use for the good of the environment as well as the bottom line, ultimately everyone benefits – thanks to one new family of energy efficient SKF bearings.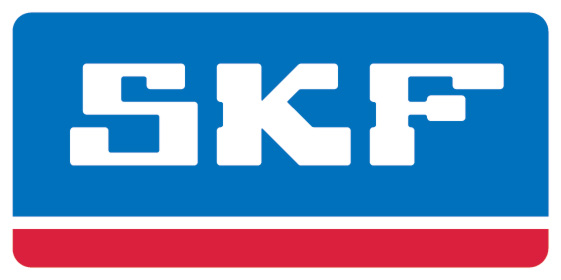 For further information visit www.eriks.co.uk/bearings
Why not visit the MDS Conference and broaden you knowledge on the savings you can make on Motor Driven Systems, find out more here
More from SKF: