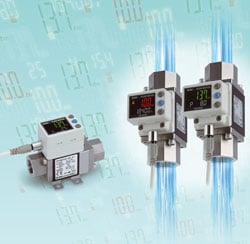 Knowing a gas or liquid's flow rate helps users save energy, isolate problems, and improve system operation.
With this in mind, SMC Pneumatics now offers one of the widest ranges of flow switches for liquids and dry inert gases, on the market.
SMC Pneumatics has added PFMB and PFMC switches to its established PFM series to measure air or Nitrogen flow, expanding the range capacity to measure flow rates from 0 to 2000 I/min.
Both new switches have a clear dual colour red/green LCD display, and the PFMC switch is also IP65 rated for difficult environments, offering a two-line display to show either total flow or the peak flow rate.
For measuring liquid flow rates, the PF3W series covers 0.5 l/min up to 250 l/min for water or ethylene glycol solutions. All models in the range feature a two-line rotatable display in addition to the red/green flow rate in order to display accumulated flow, and maximum or minimum flow.
Available with a temperature sensor, the switch can measure both temperature and flow with one device and then send a continuous analogue output to the control system.
The series is also available with a remote display so it can be panel mounted in a convenient position with no loss of functionality, idea for where there is inaccessible pipework. In addition, when measuring the flow of DI water or low viscosity chemicals, the PF3W series can be specified with PVC piping connections and FKM seals.
Related Posts