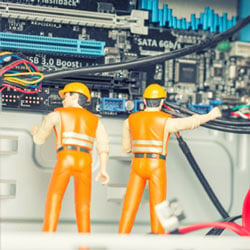 If Industry 4.0 is all about making factories smarter, then you don't get much smarter than embedding intelligence into motion plastics. By integrating sensing, monitoring and communications, igus® has created high performance engineering plastics products, based on e-chains, cables, and bearings, that can increase plant availability, maximise uptime and reduce costs.
igus® motion plastics are already self-lubricating and maintenance-free, as well as being harder-wearing and more energy efficient than traditional materials. There's a long list of conditions and contaminants which they can resist, including rain, salt, extreme temperatures, UV, oil and chemicals. They're also extensively tested, enabling igus® to accurately predict service life and offer comprehensive reliability guarantees.

Now after, over 50 years of manufacturing plastic bearings, and almost three decades of producing continuous-flex cable, igus® motion plastics are found in over 100,000 cables, energy chains and linear bearing products. However, the company's latest development goes a huge step further.

The latest igus® smart motion plastics actually monitor themselves for performance and wear – enabling users to use predictive maintenance to avoid critical failures and unscheduled repairs.

Smart choice

The Industry 4.0 factory isn't smart for smart's sake. It's smart to improve reliability and reduce costs. Smart plastics help, by automating condition monitoring and predictive maintenance, to provide performance data and early warning of critical wear.

igus® isense smart plastics encompass a range of sensing technologies and monitoring modules. These can then be networked with the icom Communication Module from igus® – either integrating with the factory's own IT infrastructure or with the igus® data cloud.

The data which the isense sensors gather is referenced against aggregated test data from the igus® test laboratory – the largest in the sector. This helps ensure the products are performing smoothly in the real world. Then, if the data shows the values are exceeding pre-determined thresholds, alerts are sent automatically, so that maintenance or replacement can take place before the situation becomes critical.

Sharing the burden

Commissioning maintenance at the optimum time, and ordering spare parts for just-in-time delivery, can be a challenge. However, igus® smart plastics provide the option to share the data they gather with the igus® data centre.

This opens up possibilities of customised service life calculation and optimisation of business processes. The result is even lower maintenance costs and even greater plant availability.
Related Posts