Smart grids have great potential to improve the measurement, management and minimisation of energy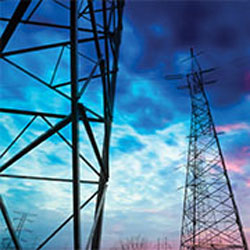 use, enabling more efficient operation of equipment. They also help maximise the efficiency of on-site power and choose when it's best to buy energy; reducing energy costs and enhancing sustainability for any business.
Around the UK and Europe smart meters are currently being rolled out to all consumers of electricity. Great Britain has around 4 million non-domestic meter points, compared to around 50 million domestic sites. These meters and other sensors are combined to create smart grids, which provide two-way digital communication across electricity production and distribution networks.
Energy use and output is measured as close to real-time as possible, from which the smart grid can best decide how to adjust supply and manage the system in the most efficient manner. Add to this the provision of real-time price information, and consumers are able to buy energy when it's cheapest, and cut use when it is most expensive by shifting production (if practical) away from times of high energy prices.
Smart grids can also enable an improved interaction with local on-site or 'distributed' power sources, through its ability to balance power loads quickly and automatically.
There are currently 22 UK smart grid trials underway in the North East and Yorkshire as part of the Customer-Led Network Revolution project. Early results showed that smart meters cut peak-time use by 10% – representing about 5 GW at a national level – and overall electricity consumption by 3%. This is likely to be even more pronounced for businesses seeking to reduce production costs, many of which have more flexibility to shift demand than the average user.
Making the most of the Smart potential
Of course smart meters and grids are not the only way to save energy, and other improvements can enhance their effectiveness. While they may allow you to manage energy use more effectively, production lines, buildings and processes must also be maintained effectively and made as efficient as possible to achieve significant savings. Specialist organisations are available to monitor energy use and patterns in order to take full advantage of the smart grid's potential to reduce energy costs.
Cutting energy use and reducing production costs in this way is a priority for the Government, which has introduced incentives, including Enhanced Capital Allowances (ECAs), where the cost of certain energy saving equipment can be written off against profit as a 100% first-year capital allowance.
On-site options
A major way for a company to cut energy bills – and potentially carbon emissions – is by using smart grids to produce and efficiently use on-site power. A recent report from the Sustainable Energy Association (SEA) industry group, which represents a number of energy efficiency and microgeneration technology providers, shows that more on-site energy generation offers better value than continued expansion of largescale power projects at a national level, with dramatic savings possible for individual consumers.
The most efficient on-site option of all is combined heat and power (CHP), which simultaneously generates heat and power in an efficient, single process, capturing heat that would otherwise have been lost. Heat and power from on-site CHP can be sold, but is most suitable for operations with their own significant heating or cooling needs. The Government also offers strong incentives for businesses to invest in CHP but you will score more highly in the efficiency stakes if you choose biomass or biogas CHP.
Smart grids also enhance the potential for on-site intermittent renewables, such as solar and wind – which in the absence of effective power storage, have to be balanced against demand and alternative supply. Generous subsidies remain on offer for renewables at rates guaranteed for 25 years under the Feed-in-Tariff (FiT) system.
On-site generation also helps improve efficiency by reducing transmission losses and improving the responsiveness of local generation to local demand patterns. In addition, it ensures that those with on-site capacity enjoy greater energy security. However, on-site power generation still represents less than 10% of the UK's total capacity, which is lower than many other developed nations.
More encouragement is expected from government directed at energy efficiency and small scale generation, as well as emissions reduction, because the result is favourable to businesses, the economy and the environment. However, the best driver of all in reducing energy use and costs is technology, in the form of smart grids, more efficient machinery, and improved distributed generation. The smarter we get the greater the potential for reducing and optimising our energy consumption.