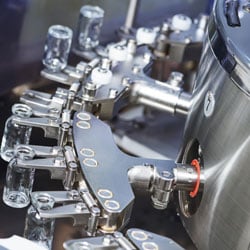 A highly automated, integrated, state-of-the-art production plant demands more than just a comprehensive range of reliable products. What customers really need is smart solutions. Key partnerships between ERIKS Flow Control and leading manufacturers can provide exactly that.

ERIKS Flow Control is not only a leader in valve technology, but also teams with ERIKS dedicated pump, hose and sealing specialists, they also have an in-house actuation centre staffed by technical experts – representing an unparalleled source of flow control know-how.
Integrated solutions for a total system.

Nowhere is a fully-integrated, application-specific flow control solution more essential than in the food and beverage, pharmaceutical and cosmetics industries.
These customers need a product that's not only right for their application, but also for their operating environment, where strict hygiene regulations apply.

One of ERIKS' key partners, INOXPA, specialises in the manufacture of stainless steel components (valves, pumps, agitators, blenders etc.), and the management of processes and services for these sectors. Highly accurate metering and dosing are also essential, and ERIKS has in-house experts specialising in the design and manufacture of the complex technology and equipment required.

The resulting integrated flow control systems match customers' capital and operating cost requirements, and help them achieve their KPIs.

Clean, compliant and certified

Tailoring a solution to the sector's specific requirements begins at the design stage and extends through every aspect of manufacturing, installation and commissioning.

To achieve FDA compliance, INOXPA products have streamlined profiles which eliminate dirt traps and maximise surface exposure for wash-down. The clamping system is also specifically designed to resist water ingress even under high pressure, again enabling effective wash-down of all areas.

To avoid contamination risk during installation, products can be pre-assembled in a dedicated environment within the manufacturing facility. Even equipment testing is carried out with medical-grade pure water, ensuring it's completely contaminant-free.

Bringing it all together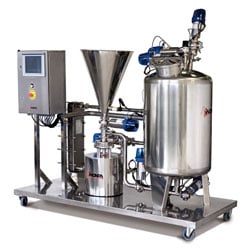 Solutions from ERIKS and their key partners guarantee seamless integration and reliable operation.
Specially-designed systems incorporating valves, hose, pumps and seals – and actuation/control systems specifically developed for the product line – can all be integrated and housed in IP-rated enclosures with relevant FDA certifications, guaranteeing no ingress of contaminants, or of water during harsh wash-down regimes.

A recent successfully completed turnkey INOXPA project helped a pharmaceutical plant in the production, storage and filling of pharmaceutical syrups, suspensions, and preparations for drinkable ampoules. INOXPA carried out the entire project from design to installation, commissioning and validation.

The preparation area required 8 diaphragm valves, including one bottom valve, for each one of four 3000 litre preparation reactors. Two further reactors incorporate a manifold with twelve diaphragm valves.

The final product is transferred from reactors to storage tanks using two BioClean 3-50 lobe rotor pumps, via a distribution manifold with forty diaphragm valves. Lastly, the five storage tanks incorporate 35 valves connecting the tanks with the filling lines, and the same model of BioClean pumps.

In this pharmaceutical application, cleaning and sanitation are of the utmost importance. The cleaning cycle involves two different cleaning agents, followed by rinsing and sanitation at 85°C. All components in contact with the product are designed to resist the cleaning chemicals and high temperature involved, and are constructed in compliance with BPE and GMPs regulations.

Smart partners

There's more to providing a successful flow control solution than the products alone. A smart solution requires smart thinking and smart partnerships too.

ERIKS' experience in delivering a lower total cost of ownership, combined with asset management know-how, and key partnerships with leading manufacturers, can help customers to achieve the most cost-effective solutions.

For example, is a single large pump always as energy-efficient as two smaller pumps, with one operating only when there is demand? Is it more cost-effective to utilise a valve with smart control to vary its speed, than to change the valve type? Is it possible to simplify the system design to reduce component parts, and therefore to lower the risk of failure?

Through asking these questions and providing the solutions, ERIKS Flow Control experts have achieved lower TCO for customers, and MTBF increases of up to 100%.

However complex or challenging your application, and however specific your requirements, ERIKS Flow Control will deliver a complete integrated solution of pump, valve, actuator and all ancillary components – to optimise productivity, cost-efficiency, energy use, and Total Cost of Ownership.
You don't get much smarter than that.
Related Posts