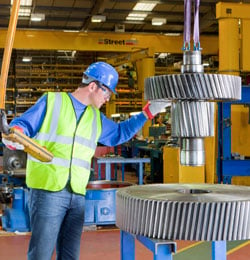 Did you know that ERIKS has a dedicated In-house gearbox repair service available for all gearboxes from all manufacturers? It's known as the ERIKS Core Competence Centre (CCC) – Gearboxes, and it's located in Dudley, West Midlands. But wherever you are and whatever your gearbox issue, the ERIKS Core Competence Centre – Gearboxes can help.
The nationwide coverage provide by the ERIKS CCC is combined with decades of industry experience and a wealth of engineering know-how, to provide a complete gearbox solution. And it's a solution without bias, able to recommend repair, replace or ugrade solutions to suit your requirements, budget and timescales rather than ERIKS' capabilities.
Because, quite simply ERIKS CCC for gearboxes has the capability to deliver whichever solution you choose.
You can also be confident it will be an end-to-end solution, which can take the whole project off your hands if you require, with turnkey projects from extraction to installation and commissioning.
Expert advice
Before a single spanner is applied to a single nut, you can call on ERIKS for:
Expert application audits
Expert application advice
Expert sustainable pricing and market value advice.
So you can be sure that whatever decision or choice you make for your gearbox, it will be the right one for your situation and application, based on all the available, relevant information.
Then, when the time comes for your repair, replace or upgrade project to swing into action, you can expect equally expert practical engineering skills, combined with the latest technology.
Tools for the job
ERIKS CCC – Gearboxes is fully-equipped to provide a quick, cost-effective, high-quality gearbox solution – using, for example, the latest 3D CAD package, operated by qualified CAD engineers.
We also have unrivalled in-house application and technical support to ensure you get the right gearbox for the job. And access to global and local inventory means repairs can be completed more quickly – with no waiting around for parts. Plus, your gearbox will always be repaired with genuine spares and to the manufacturer's original specification.
We're right behind you
ERIKS' support doesn't come to an end when your new, repaired or upgraded gearbox is back in action.
From our Core Competence Centre – Gearboxes we offer continuing breakdown support and planned maintenance, 24/7/365. We can also provide training and product support packages to help you get the best out of your gearbox.
In fact, ERIKS complete gearbox solution is not just a service. It's a service partnership, to ensure you get what's right for your gearbox, your business and your budget.
To find out more about ERIKS complete repair, replace, update service for your gearboxes, download our Complete Gearbox Solution brochure by clicking the image below.
Related Posts: