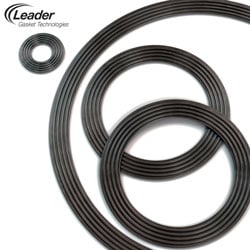 In many industries, fugitive emissions are not only an environmental issue but a health and safety concern too. But now there's a new gasket from a new ERIKS brand, which doesn't simply solve the problem, but sets the standard for competitors to match.
In process piping or fuel refineries – to name just two locations – dealing with fugitive emissions is an essential task. The health and safety aspect has always been crucial, of course, but as environmental legislation introduces ever tighter constraints, finding the most effective solution becomes even more pressing.
The recently launched Elastagraph® emission reduction gasket from Leader Gasket Technologies has a unique combination of features and benefits, which cuts fugitive emissions to an unprecedented level of just 50ppm or lower.
Effective innovation
Two things which set the Leader Elastagraph® gasket apart are its design and the materials used in its construction.
Its unique design has a number of features which maximise the gasket's effectiveness against emissions leakage.
Firstly, as a cross-section through the gasket would reveal, it has a unique profile of "humps" and "valleys" in its corrugated steel construction. If the gasket moves, or is misaligned, this corrugation helps to counter the effects and minimise any resulting leakage.
At the peak of the "humps", the graphite material used in the construction of the gasket is exceptionally high density, at 115lb. This results in low gas permeability, super sealability and exceptional recovery. At the other extreme, the compressive inner ring has exceptionally low density, at just 40lb. This in turn means an extremely low "minimum design seating stress" of just 800psi.
Putting that into perspective, spiral wound gaskets have a seating stress of 10,000psi.
The power of two
The second feature of the Leader Elastagraph® gasket which helps set it apart is the combination of materials used in its manufacture.
The combination of high-density and low-density graphites provides a level of flexibility which conforms readily to any surface irregularities.
This means that, even at minimum boltforce, the gasket is still exceptionally effective against leakage.
The graphite is also of an extremely high level of purity – completely free from fillers and binders which can often create weaknesses, increase porosity and provide greater opportunity for leakage.
The highly pure graphite of the Elastagraph® gasket also offers a high level of resistance against almost all chemicals. Only strong oxidisers at high temperatures have an unwanted effect on the gasket. And it's non-oxidising even at extremely high temperatures.
In addition, there is no cold or hot flow – right up to the maximum compressive load – and thermal expansion is low.
Non-spiralling costs
The traditional alternative to the new Elastagraph® gasket is the graphite-filled spiral-wound gasket. However, despite the advanced technology and manufacturing processes of the Elastagraph®, its cost compares favourably.
It's also competitive with options such as:
Spiral wound gaskets with asbestos filler

Die-cut flexible graphite pieces glued to a metal carrier

Flexible graphite sheets with foil inserts

Expanded PTFE sheets and

Compressed non-asbestos sheets.
But it's not only on cost where the Elastagraph® gasket wins out. Against all these alternative solutions, it provides the:
Lowest Gb rating (by a difference of 784psi)
Highest a rating of .718 (compared with .377 for the next highest, and
The lowest Gs rating: at .001 PSI compared with the next lowest at .06.
To find out more about the new Leader Elastagraph® emission reduction gasket from ERIKS, visit the Leader website or contact your usual ERIKS Service Centre.
Related Posts