Customers are always looking for ways to make bearings last longer, it could be through re-working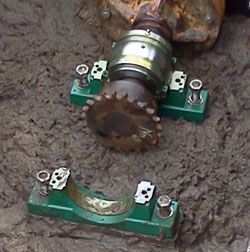 existing bearings, selecting the correct grease and grease quantity or more importantly the correct seal for the application.
In most split bearing applications the selection of seal is overlooked, and a generic felt seal is used. Whilst felt is a robust material, it is not always adequate enough for the job - the result - the bearings tend to last the warranty period, then the fun begins.
Increase Bearing Life
The correct seal will have a two-fold purpose; to prevent ingress of particulate or media and to prevent lubrication loss. It's therefore important to consider the environment where the bearing is working and what is the main catalyst for seal failure. If you're already taking advantage of a split bearing offering 100% continuous concentric sealing if mis-alignment occurs, then it seems only natural you would want the correct seal profile and material for the application.
Whether the split bearing is mounted on conveyor equipment in a quarry or fully submerged in a wastewater treatment plant, the seal you select will determine and affect the life cycle calculation of the bearing in your application. If you consider 14% of premature bearing failures are as a result of contamination, it makes sense to step back and look at what the process is doing and what you're asking of the bearing and seals.
Bearing operating temperature, contamination levels, speed of rotation, shaft orientation, load are some of the key factors that will determine what seal profile, material and arrangement can be used.
A generic comment I hear from industry is "I didn't realise there was more than one seal available for split bearings". Within the suite of seals available from Revolvo there are 8 standard seal arrangements ranging from ideal world to fine dust ingress and full submersion. By using combinations of the standard seals available there are further permissible permutations of sealing arrangements provided.
As a manufacturer of Split Roller Bearings, Revolvo can tailor a sealing solution to be application specific and extend the life of the bearing, so its always best to ask the question.
Split Roller Bearing Sealing Solutions from Revolvo
Standard seal supplied with all SB bearings unless stated otherwise. Ideal in a low dust ingress environment and moderate temperature conditions. Used in aggregate and mining applications.
2.

Labyrinth Grease Grooves
Machined labyrinth profile in the cast iron housing offering a close seal face for the tracking of grease. Typical industry applications in steel manufacture.
3.

Aluminium Triple Labyrinth - ATL
Precision machined aluminium labyrinth seal with split o-rings mounted internally. Typically used in high speed applications such as centrifugal fans, these seals are non-contacting and offer extended bearing life.
4.

Neoprene Triple Labyrinth – NTL
Identical in profile to the ATL seal, this seal is manufactured from moulded Neoprene with a central steel band. The seal is mainly used in underground applications where there is a restriction on the use of Aluminium if bearings are mounted in an explosive environment i.e mining.
Where a moderate liquid splash is prevalent, but not full submersion. A high temperature version of the seal is also available.
6.

High Temperature Packing
A self lubricating material based around PTFE & Graphite. Typically used in high temperature applications such as fan applications on ovens.
7.

Single Lip Garter Spring & Retaining Plate
For use in more arduous environments where liquid ingress is much higher and bearings are either partially or fully submerged. Consideration needs to be given to the lubrication method and regime in conjunction with the use of this seal if continuous full submersion is required.
A heavy duty seal which is being used in more & more applications where felt was previously used. A very hard wearing material, the Kevlar offers a high resistance to fine dust ingress such as cement,coal or ash.
For more information on Revolvo Split Roller Bearing visit the website
More on Revolvo SRB: