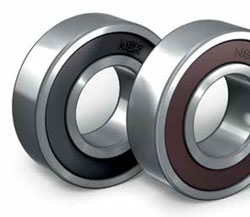 Bearings can be found in a vast range of machinery including electric motors, pumps, fans and electrical appliances, and many of those bearings will be made by NSK - the world's largest manufacturer of deep groove ball bearings. Every product improvement and new development from NSK can make an important contribution to lower friction and more energy efficient operations.
The deep groove ball bearing is the world's most widely used type of bearing. In general industrial applications, many deep groove ball bearings are classified as "sealed for life", meaning they are supplied with a closure on each side of the bearing and cannot be re-lubricated. Because bearings are a critical component in machines, bearing lifetime is directly related to machine uptime, so choice of closure is an important decision for a machine designer or maintenance operator.
Non contact ZZ metal shields are the most basic type of bearing closure. These shields, which are treated with a special anti-corrosion zinc coating, help to retain the grease within the bearing and protect the bearing from large contaminants. There is no speed restriction with ZZ shields, meaning they are commonly found in high speed applications such as motors.
NSK also offers "VV" seals. The non contact VV rubber seal is moulded so that its sealing lip sits tightly in a unique groove found on the inner ring of all standard NSK deep groove ball bearings (10mm bore diameter upwards). This creates a very fine clearance labyrinth, resulting in zero seal drag, low starting torque and no reduction in bearing limiting speed. These properties are very important when energy efficiency and low power loss are critical, e.g. small electric motors. Grease retention and contamination protection are also greatly increased compared to the ZZ shielded design.
The seal groove on the inner ring of all standard bearings has also allowed NSK to develop a high performance contact seal design. The NSK "DDU" seal is designed with 3 sealing lips; one lip forms a contact with the side face of the inner ring groove, the other sealing lips form tight non-contact constrictions at either side of the contact sealing lip. This triple lip sealing mechanism gives excellent protection against dust and water contamination. The axial sealing lip means that grease leakage is significantly reduced compared to standard seals, particularly in outer ring rotating applications. The innovative seal design has been well proven in the field, with numerous cost savings achieved simply by switching from a standard rubber seal to an NSK DDU seal. DDU seals are standard on all NSK deep groove ball bearings above 10mm bore diameter.
NSK's different seal closure options allow ERIKS customers to choose a bearing for any application condition, be it high speed, low torque, water splash, dust protection, grease retention or a combination of these. Using the NSK high performance sealing options ERIKS have been able to work with a large number of MRO accounts to realise significant cost saving benefits.
Bearing Shield and Seal Bearing Comparision Table
ZZ
VV
DDU
Dust Resistance
Normal
Good
Excellent
Water Resistance
Unsuitable
Unsuitable
Excellent
Torque
Very Low
Very Low
Normal
Speed
High
High
Normal
Grease Retention
Normal
Good
Excellent
Related Posts: