New regulations have been passed by the Scottish parliament to help Scotland become one of the most resource-efficient nations in Europe. And as ERIKS has sites in Scotland, that means we're fast-tracking our zero waste to landfill initiative north of the border.
We're already aiming to achieve the zero target nationally by the end of 2015. However, the new Scottish regulations mean that we have been presenting metal, plastic, glass, paper and card for separate collection for recycling, since 1st January.
Meanwhile, further south, we're conducting a survey on all our main sites to assess what is wasted and why. And in a practical first step, we've swapped half the waste bins at our Halesowen Head Office and Distribution Centre for recycling bins, and point-of-use recycling bins have also been installed.
Watching our waste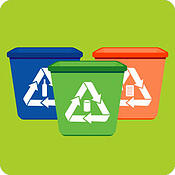 The waste survey has already revealed some staggering statistics. For example, in 2013, as a company we produced 540 metric tonnes of waste nationwide, of which only 85 tonnes was recycled.
That leaves us with a staggering 460 tonnes of waste – much of which could probably be recycled or re-used – being, literally, wasted. So we need to recycle more. We need to look at ways of re-using waste: perhaps diverting it to energy production where suitable. And we need to look at the most effective way of all of reducing waste: preventing it in the first place.
Doing things differently
For example, you want to protect something in the post. Do you use a Jiffy Bag with a high plastic content, which is then thrown away? Well why not protect the item just as effectively but far more sustainably, with a cardboard box? It's not only re-usable – so better value for money – but also recyclable – so there's zero waste to landfill. It's a winwin, not a waste-waste, situation.
In it together
Reducing waste to landfill is not just about saving money – though in the long run it will. It's not just about giving our business a competitive advantage. Though that will come too. It's also about helping our customers, most of whom are going through the same process of finding ways to reduce waste.
Clearly, if they can choose to buy a product in recyclable packaging – and even a product which is recyclable – it will help reduce their own waste stream, so will be their preferred option.
And last – but far from least – reducing waste is about the planet. Our planet and our customers' planet. Everybody's planet. We're all in it together because we're all on it together. So let's all think hard and work hard, to achieve Zero Waste to Landfill by the end of 2015.