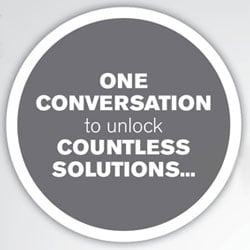 You only have to ask ERIKS, to get all the answers you need. That's because it only takes one conversation to unlock countless solutions, for all your industrial product, service, supply and support needs. In fact, there's no simpler way to get things done than talking to ERIKS.
For most ERIKS customers, that conversation starts with products. And since ERIKS is the European market leader for Industrial Products and Services, why wouldn't it? The company has over £23m of mechanical and electrical engineering components in stock, all manufactured with care to the highest quality. So one conversation with ERIKS can unlock a huge range of product solutions, across:
Bearings and lubrication

Power transmission

Fluid power, transfer and control

Sealing and polymer

Flow control

Tools, safety and maintenance
But products alone are only the start of what makes ERIKS unique.
The clue's right in front of you
The secret to ERIKS' unique capabilities is right under your nose. But it's much more than just the name of this magazine.
ERIKS' engineering know-how is decades of technical experience. It's engineers with real expertise gained and applied in real-life situations, where minimising downtime, optimising productivity and maximising safety are part and parcel of any project. It's also a deep understanding of customers' industries and product applications, so that product issues can be quickly and accurately identified, and effectively solved, prevented or mitigated.
A thorough understanding of applications also makes it easier for ERIKS to provide customised and engineered solutions, where off-the-shelf won't do. Unique problems demand unique solutions, and ERIKS has the skills and resources to engineer them.
However, ERIKS' know-how doesn't end with providing a product solution, whether ready-made or custom-built. In fact, that's only the beginning.
Life-support for products
ERIKS understand that the most forward-looking customers don't judge a product's performance on its price tag. After all, any savings on the initial purchase can soon be wiped out by the costs of excessive maintenance, unforeseen repairs, or a shorter than expected service life.
That's why ERIKS promise to supply products which provide long-term solutions and reliable, sustainable, energy-efficient operation – for a longer, more cost effective life.
Every single product supplied by ERIKS is then supported by ERIKS. This TLC for your products throughout their life cycle – including Condition Monitoring, Asset Management and On-Site Maintenance – means a lower TCO in the long-run. And the company can also commit to repairing, upgrading, and replacing at the end of the product's service life, to ensure you maintain optimum efficiency and productivity.

All of which helps to put into perspective investing a few extra pennies on a price tag at the start.
People make Solutions

Whether they're product specialists or van drivers, switchboard operators or maintenance engineers, sales staff or accountants, everyone at ERIKS works in customer service. So ERIKS people make products into solutions, by combining customer service that's consistently great with insight and solutions that deliver performance at the best TCO.

ERIKS' aim is to work with you in a true partnership. One that makes it hard to tell where your team ends and ERIKS' begins. By adding an extra layer of knowledge – without adding an extra layer of complexity – working with ERIKS is seamless, complementary, efficient and effective. Again, the statistics speak for themselves: ERIKS can save your engineers' time, and already delivers a total of £2m every month in signed-off cost-savings for customers.

That's not just for now, but for the future too.

ERIKS invest heavily in internal training, continued professional development and apprenticeship and graduate schemes, to bring on board then develop new talent ready to meet new challenges. The industrial engineering workforce may be ageing and shrinking, but ERIKS is ready to fill the gap.

Many businesses trust ERIKS to help them achieve their KPIs and meet their SLAs. Others simply rely on them to help keep their production running at its optimum, by providing condition monitoring and predictive maintenance solutions. Or timely repair, replace or upgrade advice. By helping them keep up to date with new products, new technology and new legislation. And of course, by providing the right products at the right time.

For those customers who need ERIKS people on site, the ERIKS Zero Accidents policy is highly reassuring. As a health and safety goal, it makes the company safer to work for and safer to work with. It also means that your own safety record won't be compromised by ERIKS' engineers or other teams, because you can be sure they're as safety conscious as you are.
Solutions at your fingertips

Even the best and most appropriate product solution is no use to you unless it's readily available and quickly, efficiently and reliably delivered. So it's reassuring to know that even the largest companies, which depend absolutely on a robust supply chain, depend absolutely on ERIKS.

As a major global business, ERIKS can guarantee continuity of supply. And as a business, with long term
partnerships with many manufacturers, they can also remove the risk of inadvertently purchasing counterfeit products.

In fact, many products supplied by ERIKS have been developed as a result of these partnerships.ERIKS' application know-how has informed the manufacturer's design expertise, to produce a high quality and highly efficient end result.

Even ordering is made easier with ERIKS, thanks to the availability of a sophisticated ecommerce solution which can be integrated into your own ERP system. There's also a national network of ERIKS Service Centres and Regional Hubs, ensuring products and expertise are always within quick and easy reach. The statistics speak for themselves: 99.6% on-time delivery means less downtime and less lost production.

Or if you want the products you need, exactly where you need them, ERIKS' stock management, integrated or on-site solutions – taking ownership of your MRO supply chain – mean stock is always on site and always on time.
Talk is cheap

It's easy to talk about the great products, great services and great people you'll find at ERIKS. It's harder to prove it's all true.

However, all it takes is one conversation to find out for yourself.

Talk to ERIKS about your product requirements. About a tricky application. About avoiding unplanned maintenance. About saving energy. About any one of the countless challenges you face every day.
Related Posts