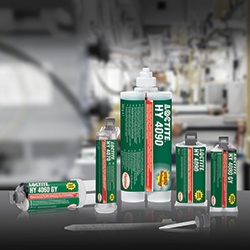 Why are LOCTITE engineering adhesives and sealants used so widely throughout the world? Simple: because they're a great way of reducing downtime, improving reliability, cutting costs and re-using worn parts. There are specific products for a vast range of applications, and each one is designed to deliver the very highest levels of performance, time after time.

As the leader in Adhesive Technology Henkel has a policy of continuous development, to create new solutions for improved efficiency, Health & Safety aspects and innovations. In as little as two seconds the LOCTITE instant adhesive range 401, 406 and 454 will achieve handling strength on most close-fitting plastic and rubber components with temperature resistant up to 120◦C.
To secure bearings, bushes and cylindrical parts into housings and onto shafts use anaerobic adhesives. They are high-strength products that form 100% contact between mating metal surfaces so they can carry high loads and are particularly effective in combination with shrink- or press fits. Benefit from the latest generation of retaining compounds LOCTITE 638 and 648 with higher temperature and oil tolerance as well as improved performance on passive materials.

To increase versatility in bonding multi-substrate materials the latest Innovation in Hybrid Technology combines the qualities of many adhesive technologies to achieve bond strength, fast fixture speed and durability.
Discover the latest innovation on the market. LOCTITE General Purpose Structural Adhesives, powered by hybrid adhesive technology, are a breakthrough in structural bonding. They're formulated to meet the rising demands in assembly design and maintenance repair for High performance and Multi-surface structural bonding. With a powerful combination of speed, strength and versatility, LOCTITE HY 4070 ultra-fast repair adhesive solves virtually any structural bonding maintenance repair challenge. As the fast fixture allows an increased production throughput and reduces maintenance downtime, the outstanding substrate versatility allows for design flexibility and broader repair opportunities. The new Universal Structural adhesive shows also improved health & safety features as well as safe product handling and storage.
Want to know more? Contact your local service centre on 0845 006 600. Or if you're attending the ERIKS Innovation Excellence event at the MTC, Coventry, 3rd October 2017, visit the Henkel LOCTITE Stand S6 to see a demonstration.
Also at ERIKS Innovation Excellence: Win a free line survey worth £600 with one of Henkel's engineering experts to highlight potential opportunities and cost savings on you site. Increase Reliability, Save Time, Reduce Costs.Visit Stand S6 for the chance to win!
Related Posts