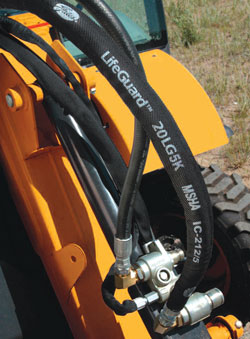 If someone fired a gun at you at work, or stabbed you with a hypodermic needle, you'd expect it to be recorded as an injury. Yet hydraulics – which can propel liquids at the speed of a bullet, and which can penetrate skin like an injection – are not a recognised safety hazard unless or until they cause a lost-time injury or a fatality.
As a result, there's a lack of data about the number of industrial injuries caused by hydraulics. Meanwhile, the temperatures and pressures at which hydraulic systems operate are increasing, whichmeans the danger they represent is also increasing.
Clearly what's required is increased protection for nearby machine operators and other personnel, in the event of a hydraulic hose burst or pinhole leak.
Protective, not restrictive
There's no place for operator protection which prevents them carrying out everyday operational activities.
A far more viable alternative to providing cumbersome PPE for everyone at risk from hydraulics – which could be anyone from a digger driver to a machine operator, to someone simply passing by when a hose bursts – is to prevent the burst or leak causing catastrophic consequences in the first place.
However, with psi pressures from a burst in five figures, and pinhole leaks possible at thousands of psi and temperatures in the mid-200°F, an ordinary outer sleeve around the hose will not be sufficient.
What's required instead is a method of:
Containing the escaping fluid
Absorbing the burst energy
Dispersing the energy
Alerting operators to the hose failure.
Multi-layered protection
The Gates LifeGuard™ Line-of-Sight Sleeving System is such an innovative solution that there's no directly competitive product available, and it has two patent applications.
Where it differs from standard sleeving is in providing not just one, but two layers of nylon: woven and wrapped in such a way that they have enormous tensile strength to absorb the energy of a high-pressure hydraulic fluid burst or leak.
This LifeGuard system offers protection in four ways:
The first sleeve layer absorbs the majority of the burst energy.
The second layer disperses any remaining explosive force.
The remaining energy, and the fluids escaping as a result of the burst or leak, are redirected to the hose ends.
Carefully designed channel clamps allow the fluid to spill from the hose ends, creating a noticeable spill which provides a visible warning of hose failure, for fast detection.
The Gates LifeGuard sleeving will contain and absorb bursts at pressures of up to 10,000psi, and pinhole leaks of up to 5,000psi at temperatures of up to 250°F, for up to 5 minutes.
Certified Safety
Meeting ISO 3457, and the MSHA flame-resistance requirements, the Gates LifeGuard Line-of-Sight Sleeving System's design and tensile strength enables it to protect against a wide range of potential harms which may result from an hydraulic fluid escape, including:
Personal injury
Fluid burns and injection
Fires and explosions
Electrical shock
Mechanical failure.
Yet its flexibility means it can be installed in almost any application, without compromising performance.
To find out more, contact your usual ERIKS service centre, or click below to download a copy of our latest flyer.
Related Posts: