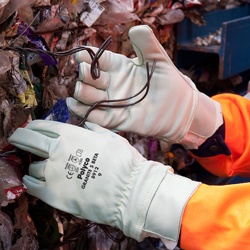 The waste and recycling industry is a dangerous one to work in. It's true that the number of accidents has fallen in recent years – but it's still four times higher than the national average, and even double the rate in manufacturing and construction. Fortunately, reducing accidents further can be as quick and easy as putting on a pair of gloves.
Construction poses dangers from falling masonry and falls from scaffolding, for example. Manufacturing can involve heavy machinery and fast-moving components. Waste and recycling's dangers may not be so obvious or so dramatic, but they still have to be faced every day, and they can be life-changing too.
A hand injury such as a puncture wound from an infected needle is not usually fatal. Nor is a deep cut to the hand. But it can affect quality of life, require time off work, and stop someone earning a living.
So when there's an easy solution, it makes sense for employers and employees to use it.
Handfuls of gloves
Safety gloves are easy to find, easy to wear, and effective. In fact the only difficult thing about them can be choosing the best one for the particular protection you need, from the huge selection on the market.
Bernard Garvey, Technology Director of Polyco, suggests carrying out a simple hand protection assessment survey to make sure you make the right choice. This can identify the hazards and risks each worker faces in their particular working environment, and help define their specific protection requirements.
Based on this information, a reputable manufacturer can suggest the most appropriate protection, and offer a product trial.
This is also a good way of getting worker "buy-in" to the idea of hand safety. When they experience how comfortable and yet how effective safety gloves can be, they'll be happy to wear them on a daily basis – and their feedback can be valuable in making the right selection.
Superior protection
The most comprehensive range of hand protection for the waste and recycling industry is provided by Polyco. The company is also the sole UK distributor of the HexArmor range of protective gloves, which offer protection over and above the EN388 puncture resistance standard.
HexArmor gloves are made using SuperFabric – an advanced material which uses tiny guard plates adhered to high-performance fabrics. The result is superior protection against puncture, cut and abrasion injuries.
Whilst EN388 uses standard testing equipment, HexArmor is tested in addition using a 25 gauge needle. Which – for employees facing the risk of needle-stick injuries on a daily basis – is handing them highly reassuring protection.
Related Posts