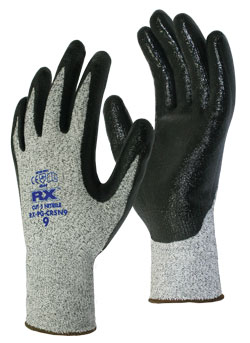 Providing appropriate Personal Protective Equipment (PPE) for your employees is not just good sense. It's also the law.
As Regulation 4 of the Personal Protective Equipment at Work Regulations 1992 states: "every employer shall ensure that suitable personal protective equipment is provided to his employees who may be exposed to a risk to their health or safety while at work".
Of course, providing the equipment and ensuring it's used are two different matters. But one way to encourage people to wear or use the PPE you provide, is to choose solutions which are not only appropriate to the task and its associated hazards, but also comfortable in everyday use.
After all, a suit of armour would be pretty good protection against a great many hazards, but it would make it fairly difficult and uncomfortable to carry out most jobs. Similarly, steel gauntlets might be appropriate when using some machinery, but if they make the wearer too clumsy to operate the equipment they will soon be discarded.
Hand-in-glove
For hands, the workplace is the most dangerous place.
It's where most accidents involving hand injury take place, and where there's a frequent risk of hands coming into contact with cutting and burning hazards, or chemicals. And the hand's essentially delicate but complex construction, plus its importance in everyday life and work, mean a hand injury can have a major impact on a person's life, whether in the short-term or – in the case of a more serious or permanent injury – the long-term.
So it's essential that employees are offered hand protection – and protection they will be happy to wear every day.
One piece of PPE where comfort, safety and wearability fit together, literally, hand in glove is the RX Safe5 Glove, which is ideal for a range of applications, including:
Component handling
General assembly
Electronics
Construction and
Automotive.
Three ways safer
Available in sizes from 7-11, the RX Safe5 is a highly durable glove that offers outstanding protection in several ways.
The glove palm is coated in Nitrile, which is not only resilient and resistant to – for example – oils and fuels, but also flexible with good grip. So it offers protection, but at the same time won't prevent the wearer undertaking his or her usual tasks, or cause loss of grip which could lead to accidents.
A seamless liner offers another layer of protection, as well as making the RX Safe5 more comfortable to wear. Although close-fitting, and reaching down as far as the wrist, the glove liner is breathable, so hands don't get uncomfortably hot or sweaty.
An elasticated, knitted wrist ensures the gloves stay securely on the hand, and the close fit prevents dust, dirt or debris from getting inside the glove to cause discomfort or, possibly, even injury.
Get your hands on a catalogue
The RX Safe5 Glove is just one of the many items of PPE available from ERIKS. The full range is covered by a dedicated 350+ page catalogue featuring PPE for every conceivable risk, and for protection from head to toe.
Chosen from our reputable supplier partners, the PPE in our range conforms with, or exceeds, the latest legislation, and can help you adopt best practice to reduce risks to your workforce, without compromising productivity.
Which surely deserves a big hand from everybody.
Request your free ERIKS PPE Catalogue now, click the catalogue image above.
Related Posts: