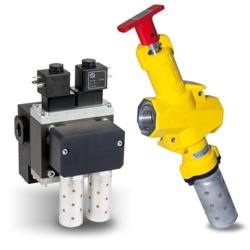 It is of vital importance that any industrial automation process is considered to provide a safe working environment for its operators and those around it. Compressed air is an extremely versatile and safe medium but if used incorrectly can also provide a major hazard to personal safety.
Ever present from the early days of machine automation, IMI Precision Engineering has been able to offer solutions that assist customers in achieving this safe workplace using many standard product ranges. In addition, with over 50 years of experience of more specific products designed primarily for use in safety applications helping customers meet the legal requirements of global or local legislation, for example, the European DIN EN ISO13849.
Subjects important to machine designers and end users here include:
Safety valves with self-monitoring functions
Specifics of safety functions and necessary performance levels
Support on risk analysis through machine validation to relevant documentation
When an emergency situation appears, the operator also needs to know that machine elements are at least under controlled conditions. Any such situation can then be investigated and corrected safely prior to a restart. Of primary importance here is the fast, effective evacuation of the air supply and the ability to keep any maintenance operatives safe during remedial work under conditions known in the industry as "LOTO" – "lock out tag out".
A machine or system need not be complex in order to require consideration with respect to safety levels. Even a simple flexible hose installation where a failure can present a risk to safety can benefit from the addition on anti-flay devices. Alongside this, devices to limit the system pressure to the optimum setting assist with both safety and energy efficiency.
A simple example of improvements which can be made to most systems involves the use of efficient exhaust port silencers. These can improve operator comfort and reduce health risks by controlling noise resulting from exhausting air.
Electrically Operated Safety Valves
SCVA Cross-Monitored Safety Valve
In situations requiring a complex machine system to be rendered safe during an emergency, then a dual cross monitored dump valve is essential. The SCVA is a pneumatically monitored valve eliminating the need for further electronic systems in order to meet the requirements of DIN EN ISO13849-1 "e Cat.4" or similar. Downstream air is exhausted in the shortest possible time due to the very high reverse flow (up to 30,000 l/min).
Four port sizes in both BSP and NPT thread forms
Requires only 50 micron filtration for cost effective operation
Supplied complete with highly effective exhaust silencer
Extremely long service life even in high frequency switching applications - excellent B10 values
SCSQ Cross-Monitored Safety Valve With Integrated Soft Start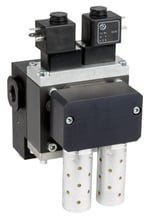 In applications requiring a controlled re-start of the air supply, the SCSQ includes a variable soft start function.
This can be adjusted to suit the downstream volume and required fill rate.
Like the SCVA, the SCSQ is pneumatically monitored to meet the requirements of current safety legislation and requires no additional electronics.
Incorporates a glandless spool for extremely long life expectancy, giving best in class B10 values
Can be mounted as part of a control system or connected to Excelon air preparation units via integral adaptors
Supplied complete with highly effective exhaust silencer
Manually Operated Safety Valves
Inline Lockout Valves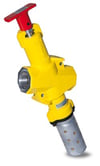 When carrying out maintenance duties on machine installations, of vital importance is the safety of the personnel engaged in the work. "LOTO" or "lock out tag out" is a primary function before any work begins. The air supply to the area should be isolated and the downstream air exhausted quickly and safely then locked to ensure safety of the workforce. IMI Norgren lock out valves provide a solution to this task, and are easily fitted into the system.
Valves can only be locked in the "off" position and made secure with a purpose made hasp
Operating handle provides a clear, simple method of operation
Complete with integral heavy duty silencer/muffler
Tamper-Proof Pressure Regulator
Health and safety guidelines require simple blow guns – used throughout industry – to be supplied with a maximum pressure of 2 bar for reasons of safety. The easiest way of ensuring that this happens is to use an IMI Norgren pre-set tamper-proof regulator from the R16 range. This unit is factory set and locked prior to despatch. On applications using flexible hoses, the R16 should also be used in conjunction with an air fuse.
Compact and easy to install
Cannot be tampered with by operators
Available with different pressure settings for use on other applications
For further information on any of these products, or for further IMI Norgren safety product ranges, please refer to the IMI Precision Engineering Safer Systems brochure. Alternatively, for further information on all IMI Precision Engineering companies visit www.imi-precision.com or call your local ERIKS service centre.
Related Posts: