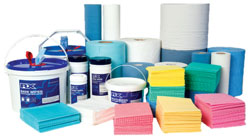 RX has launched a new portfolio of highly absorbent industrial wiping products to help cope with heavy duty cleaning tasks and small-scale spillages.
The portfolio, which is exclusive to ERIKS, includes general purpose and speciality wet wipes and cloths, and is available in a variety of durability levels to cater for different market sectors and the taking care of the diverse liquids involved.
The RX range of wet wipes have been designed as a go-to product for general everyday hygiene applications, as well as covering more technical sanitising solutions, such as when precision wiping and ultra-low linting wipes are essential. All of the products are dermatologically tested and comply with the European Standards, meaning they are effective against H1N1, Salmonella, Listeria and E-Coli, amongst others.
In order to offer end users further peace of mind when heavy duty workstation hygiene is a must, or when
small-scale accidents occur, the new range of industrial cloths and wipers are highly absorbent and durable enough to a number of different liquids, including solvents.
The new RX industrial wiping portfolio is suitable for use across a wide range of applications, but can offer an ideal solution for food processing, healthcare, transportations sectors, as well as general workshop maintenance.
For more information, please visit the RX website Or click below to download a copy of our latest brochure.

Related Posts: