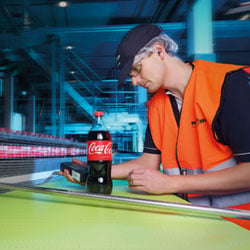 What if you can improve safety, line uptime, reduce usage of water and soap for your conveying applications all at the same time?
Rexnord has successfully helped companies around the world implement economical solutions to run their conveyors more efficiently and environmentally safe, using Rexnord® conveyor chain in DRY-PT® material. This state-of-the-art material has been developed by Rexnord to convey PET bottles without the need for external lubrication.
Low Friction
A large high-speed PET filling line was used to determine the friction level. Fixed measurement points in various positions in the line, showed the friction level of the DRY-PT material could be kept at a constant low level and, in case of conveyor contamination, a simple cleaning with water restored the original friction values on the chain. The constant low friction is important to maintain the optimal bottle flow and have minimal backline pressure on the bottles during accumulation.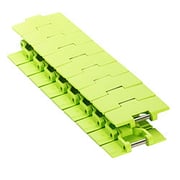 Wear Resistance
The chains in DRY-PT material show minimal wear after more than 1 year of continuous use. No replacement is therefore required for the near future. This means costs for maintenance to the conveyors are not impacted.
Conclusion
The excellent performance of DRY-PT material in the high-speed PET filling line proves that it is definitely possible to convey instable PET bottles conveyors without external lubrication. Rexnord chains in DRY-PT material ensure optimal conveyor performance and durability.
Click below for more information on Rexnord DRY-PT
Want to know more? Contact your local service centre on 0845 006 600. Or if you're attending the ERIKS Innovation Excellence event at the MTC, Coventry, 3rd October 2017, visit the Rexnord Stand.
Related Posts