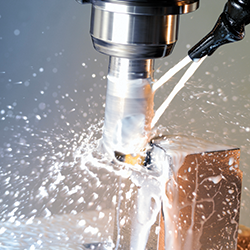 ROCOL's V-cut™ metalworking range is specially tailored for machine shop owners. V-cut is ROCOL's "Value Engineered" cutting fluid brand, providing ROCOL's performance and quality through some of the most cost effecting cutting fluids on the market.
Following extensive research in their in-house laboratories, the current achievements have now been surpassed and the value engineering ethos has never been greater.
The V-cut range offers:

MORE CHOICE: A complete range of fluid solutions for the machine shop.

MORE PERFORMANCE: Specially selected lubricity additives helps to extend tool life and improve surface finish.

MORE ECONOMY: With highly economical dilutions (up to 65:1) and prolonged sump life, V-cut goes further than other similar cutting fluids.

MORE PEACE OF MIND: Used with the ROCOL fluid mixer, V-cut products keep the workplace clean and help reduce health and safety issues.

LESS COST: The V-cut range gives you the quality and performance expected from ROCOL at a competitive price.
Want to know more? Contact your local service centre on 0845 006 600. Or if you're attending the ERIKS Innovation Excellence event at the MTC, Coventry, 3rd October 2017, visit the Rocol Stand.
Related Posts