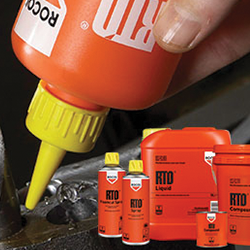 With 65 years of development and innovation, ROCOL RTD remains at the forefront in cutting performance, successfully serving the needs of the industry. The RTD range of hand applied cutting lubricants has a unique formulation, providing superior performance across a range of ferrous and non-ferrous metals.
RTD "doubles tool life" and in some cases can provide up to a 400% increased productivity compared to similar products*. Laboratory testing has shown that RTD offers up to 5 times more anti-wear protection than other products, extending tool life and improving surface finish ensuring the quality of the finished workpiece.
During the production processes, damage and breakage can mean significant cost increases - using RTD helps to minimise these risks and allows the Precision Engineer to Cut with confidence.
Features:
Effective even under severe cutting conditions

Contains premium EP additives

Improves surface finish

Increases swarf removal rates

Allows greater feed rate and speeds

Chlorine-free version supports environmental

and health and safety requirements

Range of convenient application forms

Compounds, squeeze bottles, sprays
Benefits:
Switching to RTD can provide an overall reduction in production costs:

Minimised tool breakages

Improved surface finish

Improved productivity rates

Reduction in rejected workpieces

Reduction in cost of recovery of broken tools

Wide range to meet workshop requirements, ensuring the right product for the workstation.
Want to know more? Contact your local service centre on 0845 006 600. Or if you're attending the ERIKS Innovation Excellence event at the MTC, Coventry, 3rd October 2017, visit the Rocol Stand.
Related Posts