ERIKS UK are working closely with maintenance and reliability engineers within a large shipping company, focussing specifically on their fleet of offshore diving vessels.
The Project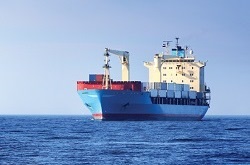 ERIKS were trusted by the customer to conduct a number of condition monitoring procedures such as Vibration Analysis and Thermal Imaging on a vessel due to our previous and documented experience,knowledge of the industry and quick response times.
On initial data collection and analysis of the main gearbox lube oil pump on the main 250 tonne sub-sea crane, higher amplitudes than expected were found. Further analysis of the vibration spectral data highlighted fault frequencies associated with the drive motors DE bearing.
ERIKS in Action
The motor was removed from service and overhauled between work patterns, dive schedules and re-instated without any disruption or delays to the clients project. The visual inspection of the motors bearings highlighted later stages of deterioration where the lubricant had broken down and was not providing any lubricating properties to the bearings. If this machine had failed within service there was the potential to be left with a suspended load sub-sea!
Since the initial survey, further scheduled monitoring of the main gearbox lube oil pump has revealed that the vibration signature is remaining steady and there has been no further evidence of fault frequencies. Through condition monitoring and the knowledge and experience of rotating equipment, ERIKS UK prevented an unforeseen failure and the chance of a suspended sub-sea load.
Best Practice
With the use of the correct condition monitoring tools, ERIKS managed to detect early faults, and prevent unwanted downtime which could otherwise have serious implications.
You can find out more about ERIKS' condition monitoring expertise here:
Download our Marine brochure here
Related Posts: