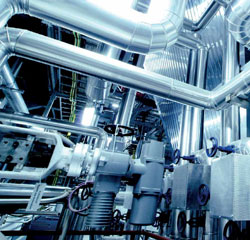 Deciding whether to repair or replace a pump is rarely a black and white issue. Andy Cruse, from ERIKS Pump Division defines the key decision making criteria for pump users and offers his verdict on the repair or replace dilemma.
CRITERIA #1 Cost
In the end most things come down to cost. If the unit price for a new pump is relatively low and isavailable it can make economic sense to replace. Our view is that single stage pumps up to 15kW, used in light industrial and HVAC, are replace rather than repair, because the cost of repairing failed bearings and seals, for example, is uneconomic for the pump user. For larger and "engineered" pumps it's a different case altogether. This type of pump is of a more substantial build quality and will lend itself well to a number of maintenance and repair regimes over it's working life, which is reflected in the price. At this point repair makes much more sense.
THE VERDICT
Repair: if you're using larger or engineered pumps where the main components are cast rather than pressed fabrications.
Replace: if your pump is in the "up to 15kW" range and the unit cost of a new pump is relatively low and readily available.
CRITERIA #2 Production disruption
Arguably the key criteria for pump users in industry. I know of one pump user who accepted the fact that his pump would only have an operational life of circa six weeks and always kept a spare on hand to quickly plug in and keep production going. It's not an option I'd recommend, because pump operational life can be subject to multiple variables not just the pump itself, but if repair is too costly in terms of downtime, then it is one way of keeping going.
THE VERDICT
Repair:

if the pump is in a non-critical production area or a stand-by pump can be quickly brought online.

Replace:

if the pump is critical to production operations and there is no alternative pump available.
CRITERIA #3 Energy efficiency
The European Union has been the driving force behind some very significant improvements in pump efficiency in recent years, which has added another criteria to the pump decision making process. For example, the ErP Directive enforced a Minimum Efficiency Index which identified minimum hydraulic efficiency that all manufacturers must meet, dramatically increasing pump efficiency. A modern end suction pump, for example, is circa 13% more efficient than its predecessors. Pump users need to be calculating how much energy it is possible to save, along with potential payback periods, by upgrading their pumping technology, before making a repair or replace decision.
THE VERDICT
Repair: if your pump is modern, high efficiency and ErP compliant.
Replace: if you are using old, inefficient pumping technology.
CRITERIA #4 Plant room disruption
Another big issue for pump users. It's all very well saying it's easier to replace a pump rather than repair, but much of the existing equipment, already in use, has bespoke configurations and dimensions to the pump manufacturer and not to a recognised international standard. This can mean that direct replacement is nigh on impossible in some cases. What's more, old plant rooms often have asbestos lagging around pipework which pump users are reluctant to disturb.
THE VERDICT
Repair: if it's old plant with outdated dimensions and standards and where there is potential for significant disruption and budget constraints, there may well still be savings opportunities to take such as benefits from modern motor control regimes.
Replace: if it is a modern plant manufactured to international standards offering an easy like-for-like swap.
CRITERIA #5 New pump availability
A criteria that is very much dependent on the pump and its application. For smaller up to 15kW pumps, both manufacturers and distributors keep plenty of ex-stock available on the most popular sizes, which can usually be shipped in 48 hours. Bespoke pumps for process applications with special options, such as seal and material variants, are a different matter entirely, because they are not as readily available and often are subject to long lead times.
THE VERDICT
Repair: if the pump is specialist or bespoke and has a long lead time.
Replace: if stock is readily available and can be accessed within a short timeframe.
CRITERIA #6 Spares availability
Ready access to spares is a key criteria in assessing whether to repair or replace. For water pumps in light industrial or HVAC, all-too-often the cost of the part, labour and downtime means that any repair or replace calculation comes out on the side of replacement. Process and wastewater pumps are a different case, with manufacturers often making 'repair kits' available which have a variety of components that are prone to wear. Obsolescence is another issue. There are plenty of pumps still in the field that are more than 30 years old and which are no longer supported by the original OEM or, alternatively, the cost of spare parts is increasing year-on-year. Pump users need to assess whether continuing with these pumps poses a risk to their operations.
THE VERDICT
Repair: if spares and repair kits are readily available or can be reverse engineered.
Replace: if the pump is designed for replacement rather than repair and the cost, including parts, labour and downtime, make repair uneconomic.
CONCLUSION
Pump repair or replace is not an easy decision, but whilst cost and potential disruption to production are the key criteria, other factors, such as plant room disruption, can lead a pump user coming to the conclusion that, despite increasing spares costs and all the potential for energy saving, there really is no alternative to soldiering on with their current pumps. My advice is to get advice. Often what seems like a pump problem is actually a system issue which the pump is getting the blame for. The only real way to get the best out of your pumps is to step back a moment, assess what the pump is actually being used and whether it is fit-for-purpose, before making informed long-term and strategic decisions.
Related Posts: