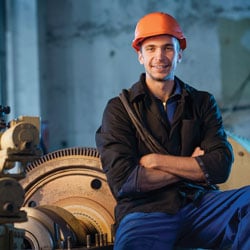 What should drive your decision when you're deciding whether to repair or replace a drive? Nigel Jones and Simon Whitehouse of ERIKS discuss the issues and outline your options.
Criteria #1 - Production Disruption
If a drive has failed and production is disrupted or completely halted as a result, your focus will be on getting production back up and running as soon as possible. Sometimes an on-the-spot repair will be the quickest solution, but it may be a short-term one. Before long another drive failure – perhaps a catastrophic one – could occur. However, with a very old drive, even a straight swap may not be straightforward, as dimensional differences may have been introduced over time.
The Verdict
Repair: if lack of maintenance has caused the failure, and you're prepared to implement a preventive maintenance routine.
Replace: 1) if this is only the latest failure of many, which have been rectified by ad hoc repairs on a number of occasions 2) if failure is a result of hard-running to maximise production. It could be time to upgrade your drive.
Criteria #2 - Drive / Parts Availability
You're unlikely to have a standby drive waiting in the wings to take over when one fails. So whether to repair or replace can come down to the time it takes to source new parts compared with a whole new drive. Sometimes – depending on the nature of the failure and therefore the type of parts required – there's very little difference at all.
The Verdict
Repair: if replacement parts are readily available.
Replace: if a replacement drive can be sourced more quickly than new parts – which could well be the case if the drive is old or even obsolete.
Criteria #3 - Energy Efficiency
The efficiency of a drive is never a standalone issue. It's always important to look at the bigger picture and consider the efficiency of the motor too. For example, a wormbox is an inherently inefficient design. But if it's performing reliably and the motor that powers it is low-efficiency, it may be more cost-effective to improve energy efficiency by replacing the motor. Before upgrading a drive for the sake of energy efficiency, it is also worth looking at the dimensional differences between the old and proposed new drive. If extensive modifications are required to make the new one fit, energy efficiency savings may take a long time to achieve payback. A feasibility study may be required to identify the best course of action.
The Verdict
Repair: if the drive is reliable and if replacement would involve sizeable additional costs. But consider upgrading the motor to realise energy efficiency gains.
Replace: if energy-efficiency gains would make it cost-effective despite any additional works to accommodate dimensional differences. If the gearbox is upgraded, consider upgrading the motor too.
Criteria #4 Motor and Gearbox Availability
Smaller motors – 30Kw and below – are generally readily available as replacements. Availability of gearboxes is not so clear cut. However, a reputable supplier will hold a large stock. For example, ERIKS has motors up to 200kW and geared motors up to 55kW available ex-stock, and has CAD/CAM capability for designing engineered solutions.
The Verdict
Repair: if a long lead time makes it unfeasible to wait for a replacement.
Replace: if a new motor or gearbox is readily available with a short lead time.
Criteria #5 Spares Availability
The availability of spares will depend on a number of factors, including the age of the equipment and whether or not the manufacturer is still supporting it. The older the drive, the less likely it is that spares will be available, and reverse engineering may be required. ERIKS currently works on site with their larger Integrated Solution sites and MRO customers to assess the criticality of their spares, evaluate their spares stock, and put in place a spares management plan and a fast drive replacement process.
The Verdict
Repair:

if the equipment is still supported and spares are readily available or can be cost-effectively reverse engineered.
Replace: if spares are unavailable and reverse engineering is uneconomic.
Criteria #6 Cost
Once all the above criteria have been taken into consideration, your decision will ultimately come down to cost and budget. However it is important to take unbiased advice so that the decision to repair or replace is not influenced by the capabilities of your drives partner.
The Verdict
Repair: if this is a cost-effective long-term solution, but not if you will find yourself in the same situation only a few months down the line.
Replace: if energy efficiency and/or productivity gains will deliver payback over a realistic timescale.
Conclusion
Every situation is different, and numerous different factors will come into play to influence your decision. However, what should never influence it are the capabilities of your drives supplier. Seek advice from a supplier partner who can meet your requirements whatever your decision, so you can be sure of balanced and impartial advice.
Related Posts