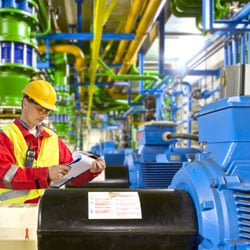 At a recent ERIKS safety, training, energy and productivity event hosted by Festo, ERIKS Technical Manager Mark Maher made a potentially controversial point. Energy-efficient products, he said, will not reduce operating and production costs as effectively as avoiding unplanned loss of production.
That's an easy claim to make, but sounds like a tougher situation to achieve.
As Mark explained, using Mean Time Between Failure or Mean Time To Failure (MTBF MTTF) data to measure equipment reliability is inconsistent, and to predict failure is not reliable. That's mainly because MTBF data is based on statistical analysis of a very large number of devices, and doesn't relate to any single component.
The value of statistics also depends on their interpretation.
An MTTF calculation for a computer hard disk determines its MTTF as 68 years. Anyone with a computer knows that's a long way off the mark. However, if the data is used to calculate the probability that the disk will still be working after, for example, 10 years, then the answer is a far more useful and realistic 86%.
However, the figure is still about probability, which is not as reliable as predictability. So what would be a more effective method of predicting when a machine will fail, to remove probability and chance as far as possible?
"What's that funny noise?"
A potential problem is always detectable, as long as you're looking out for it. The skill lies in knowing what to monitor and how.
Every component has different ways of manifesting a potential failure, including:
initial vibration (undetectable without monitoring equipment)

noise

heat

oil contamination.
It's also important not only to collect the right data, but to know how to use it. As Mark put it in his presentation, "Big data can be bad data if it's incorrectly interpreted."
How much monitoring?
The more frequently you monitor a machine, the more likely you are to detect a problem sooner rather than later. The ultimate solution is continual monitoring.
The ERIKS e-Connect system, for example, continually uploads data to the cloud from permanently-mounted sensors. Data analysis is automated using algorithms, and if a potential fault is identified, ERIKS engineers use their know-how to decide if it is a real issue or an irrelevant reading, and whether an alert or alarm should be sent to the customer.
Automated initial analysis is essential, since the vibration data from one motor alone would fill 4 old-fashioned floppy disks – in just six seconds!
Despite the amount of data being collected and shared, security is not an issue. The sensors use mobile data platforms to send data securely and directly to the ERIKS cloud, independent of the customer's network.
Going beyond the data
However frequent, accurate and sensitive the monitoring, it only delivers data. So it's essential to have experienced engineers – who understand how and why machines fail – to interpret that data.
With sufficient know-how about the equipment and application, they can even go further and determine the root cause of failure, making it possible to make adjustments to prevent or reduce the risk of it happening again.
In fact, however hi-tech the equipment, engineers are the essential "accessory". Condition monitoring is a valuable tool to optimise reliability and minimise downtime. But like all tools, it needs to be in the right hands.
To find out about ERIKS Condition Monitoring services, contact your usual ERIKS service centre.
Related Posts