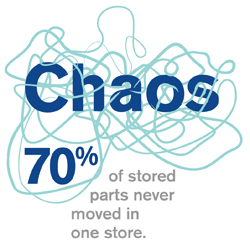 When it comes to stockholding there often prevails a 'just in case' mentality. Engineers can have a tendency to over-order just in case a given component is needed. The desire to protect the plant against downtime is commendable but the engineer's belief that creating an enormous stockholding is the most efficient strategy may be misplaced. In one company we assisted, analysis showed that a massive 70% of stored parts never moved, parts that had been bought just in case, and that the true cost of this obsolete stock to the engineering budget was a staggering £8million.
I've seen engineers order in all of the machine manufacturer's recommended spares instead of just the critical ones 'just in case'. All this leads to a vast and very expensive stock holding that ties up cash flow and actually makes it difficult to find the critical part needed among the rest, leading to engineers lost time. An alternative far more efficient option is to work with your supply chain so that they can carry non-critical parts and identify standard alternatives that may be easier to source than the OEM offers. Even critical parts are sometimes better stored offsite if, for example, it takes six hours to strip the machine down to get at the critical part and your partner supplier is only half-an-hour away, why stock it yourself?
It often amazes me how much cash can be tied up in engineering inventory and when the stores operation is not controlled well it can quickly become an unusable dumping ground that engineers ignore because it's easier for them to just order more parts.
Benefits of refining your stores operations
There are obvious benefits to changing the situation, setting firm KPIs for stores management, for example price savings achieved, component availability, speed with which parts can be found etc. Evaluating engineering stores management can provide significant savings, it can result in making the stores smaller; likewise it might result in the same sized storeroom holding more components.
We often hear from customers that storage space is limited – but in reality this is simply because they are holding 5 or 6,000 items when they only need 4,000. Another common belief expressed is that there already exists a good stock level in the factory – but frequently this stock isn't profiled against any recent data, it's largely drawn from a historical spares list and doesn't match what's currently needed out on the factory floor. There's been no study carried out to confirm that the parts in stock are critical spares, without which engineers would not be able to get the production line back up and running again in the event of unexpected downtime.
To reduce stocking costs and increase efficiency, the profile of the stock should be matched against the needs of production before product sourcing to make sure you've got the right stockholding available swiftly at the right location. There are many ways to replace 'just in case' expense with inventory optimisation, efficient profiling and MRO management, for more hints and tips have a look at our onsite resource hub here.
Related Posts: