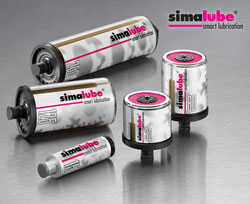 The application of a simalube fully automated lubrication system greatly extends the service life of components such as bearings, chains, gearwheels, conveyors and other mechanical pieces. The reduced maintenance and downtime of equipment also contibutes to a reduction in overall costs.
In factories where lots of dust and dirt is present, regular lubrication is important. Badly lubricated components can be quickly damaged and must then be replaced. This leads to interruptions in production and higher costs.
Cost Savings Through Payback
The the use of simalubes not only reduces downtime, eliminates poor lubrication intervals but offers significant cost savings can be achieved. When comparing traditional manual lubrication (grease gun) with automatic lubrication (simalube), the savings are substantial.
A production site which changes from manual to automatic lubrication on just 50 grease points can save up to £7,000 per year. A fully automated site with approx. 500 grease points can save up to £70,000.00 per year!
The pay back calculation only compares between the cost of labour, grease cost, grease usage and time spent lubricating with the automatic lubrication with a simalube. It doesn't take into consideration bearing failures due to poor lubrication.
Pay back based on calculation on 500 grease points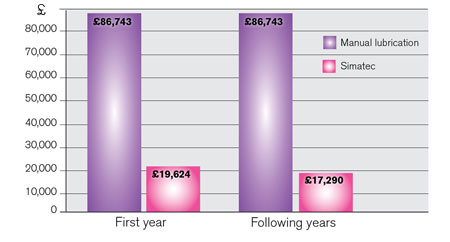 Minimise Danger and Prevent Accidents
The simalube lubricator is ideal for use with hard to reach lubrication points, eliminating the need for periodic manual lubrication of machines with grease guns. When simalube lubricators are installed, workers spend much less time in danger zones, have less exposure to noise, dust and the danger of rotating machine parts, resulting in increased workplace safety.
Take a quick look at the benefits Simalube can offer
Related Posts