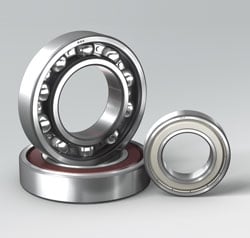 If you were asked to identify one of the most critical factors in maintaining efficient and cost-effective materials handling equipment, what would your first answer be?
Probably not the service life of the bearings. But the direct relationship between the life of a bearing and production uptime means it can have significant cost implications – as a large UK confectionery manufacturer discovered.
The manufacturer was facing rapidly rising costs from repeated failures of their dip tank conveyor nose roller. Occurring roughly every seven weeks, the failure was causing frequent unplanned machine downtime, together with extended maintenance requirements.
The resulting lost production amounted to eight hours annually, together with additional manpower costs for maintenance, and the cost of replacing the failed bearing sets. This was clearly unsustainable, so the company asked NSK to look for a viable solution.
Sealed for Life
The first step was for NSK to carry out an application review, which led to two recommendations.
The first was a switch to NSK's own range of "sealed for life" deep groove ball bearings. These incorporate two important features: a closure positioned on each side of the bearing, and the high-performance NSK DDU contact seal design which has a total of three sealing lips:
Seal 1: forming a contact with the side face of the inner ring groove
Seal 2 and Seal 3: forming a tight, non-contact constriction on either side of the contact sealing lip
This triple-lip DDU seal on the NSK deep groove ball bearings not only protects against dust and water contamination. The axial sealing lip also significantly reduces grease leakage compared with standard seals, particularly when used in rotating outer ring applications.
The results – well-proven in the field – are an operating life that's typically an 80% improvement.But a longer operating life isn't the end of the story. NSK deep groove ball bearings also have numerous technical features, that offer significant benefits in virtually all industrial applications.
The use of high-grade balls provides quieter, more consistent operation at high speeds.
NSK deep groove ball bearings are available in pressed steel, machined brass or moulded polyamide cages, and in outer diameters of up to 2,500mm, with DDU seals as standard on all bearings above 10mm diameter bore.
Sharing the Load
The analysis of the confectionery manufacturer's conveyor nose roller also revealed another problem, which led to NSK's second recommendation.
The inspection of the equipment exposed a bearing arrangement comprising three bearing units assembled together flush, with one set on each side of the roller. However, not being designed to operate in this type of configuration, the bearings failed to equally share the load and were also being affected by axial preload.
To overcome these shortcomings, NSK proposed a redesign involving a spacer shim placed between each bearing.
This established industry practice allows two or more bearings to be flush-mounted, even when they're not designed for this use. The solution provides separation, avoids axial preloading, and facilitates better load-sharing during operation.
The customer chose to set up a trial with the new bearing sets and the spacer shims in place, and the result was an immediate improvement in conveyor uptime, thanks to a significant extension of bearing life. Roller service intervals were also extended to a whole year, which reduced maintenance requirements and costs.
In fact, when reduced downtime and labour costs were taken into account, together with the savings from purchasing fewer replacement bearings, the customer's annual savings amounted to in excess of €80k.
The A-Z of VV-ZZ
The deep groove ball bearing that solved this customer's problem is the world's most widely used type of bearing.
Deployed in many kinds of application, it's particularly effective where high speeds and low power loss are required. Easy to install in a range of different configurations, NSK deep groove ball bearings can handle not only radial forces, but also moderate axial loads in both directions.
As well as the DDU contact seals employed so effectively by the confectionery manufacturer, NSK offers non-contact ZZ metal shields: essentially the most basic type of bearing closure.
Treated with a special anti-corrosion zinc coating, these shields help to retain grease within the bearing, and protect the bearing from large contaminants. They have no speed restriction, so they're commonly used in high-speed applications such as motors.
For small electric motors, on the other hand, the NSK VV seal is an ideal solution.
A non-contact rubber seal, the VV is moulded so that its sealing lip sits tightly in a unique groove, which is present on the inner ring of all standard NSK deep groove ball bearings of 10mm diameter bore and upwards. This creates a very fine clearance labyrinth, resulting in zero seal drag, low starting torque and no reduction in bearing limiting speed. These properties help to satisfy requirements for energy efficiency and low power loss, which are important in applications such as small electric motors.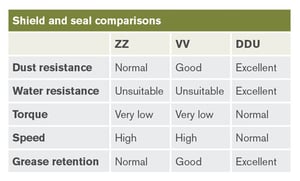 Choose your bearing
The table (above) compares the available shield and seal options, allowing selection of the most effective deep groove ball bearing for any application. Together with advice and assistance from the NSK team, these solutions have delivered significant cost savings and downtime reductions for many ERIKS MRO customers.
Related Posts