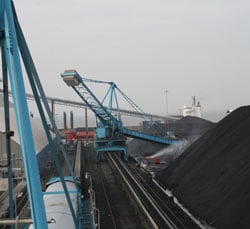 Liverpool dockside can be a hazardous environment at the best of times. But when a customer constructed a new building right in the path of two dockside cranes, the risk of an accident was obviously increased. At the latest ERIKS and Festo Machine Safety Event, Andrew Bevins – Applications Engineer for ERIKS' Electronics Product Business Unit – explained the problem and ERIKS' solution.
The rail-mounted cranes had been operating dockside without incident on two parallel lengths of track for several years. One is a stacker crane – unloading hoppers to create coal stacks – and the other is a bucket wheel reclaimer crane, which picks up the coal from the stacks in rotating buckets, and moves it onto a conveyor.
The coal then travels by conveyor to coal trains, which transport it to power stations country-wide.
However, increasing numbers of power stations are converting to burning biomass, so the customer felt the need for a new storage shed to cope with the increase in shipments of this type of fuel. This was duly built in a corner of the existing coalyard, where it created a collision hazard for the cranes.
A risk analysis was conducted, then the risk consultants called in ERIKS' technical experts to help solve the safety issue.
Aiming for zero
ERIKS' philosophy on health and safety is:
Zero Accidents

Zero Harm

Zero Injuries

Zero Compromise.
This applies on ERIKS' own sites, is the mantra ERIKS' employees work to when operating on customers' sites, and is also the approach to designing and constructing safety systems for customers.
The dockside site was no exception, and a HazOp meeting was held with the consultants, operators, maintenance engineers and ERIKS, to identify, quantify and assess the risks, and determine the solution. Together they decided that the primary concern of any safety system ERIKS would design was to prevent the crane from being able to carry out any functions which could endanger operators.
Achieving this would need the highest relevant Safety Integrity Level (SIL) under IEC EN 61508. One of the main stipulations of the SIL (Level 3) is that all signals about the current machinery status relayed to the safety system have to be informed by more than one source.
Where and how?
If the cranes were going to be operated safely at all times, it was essential to know exactly where they were at all times – not only in relation to the storage shed but also to each other.
Of course, they're easy things to spot, but for the purposes of this project their position had to be accurately and reliably determined, so that any potential it had to create an injury risk could be identified immediately.
Then, if a risk position was identified, the next requirement would be a method of forcing the crane into a safe state to prevent the risk becoming a reality.
Success is nothing
It's not giving too much away to say that ERIKS designed, specified and installed a satisfactory safety system which has to date realised the aim of no collisions, no damage, and no injuries.
To find out exactly how that was achieved, you can watch a cideo of Andy Bevin's presentation at the Festo Machine Safety Event below.
Related Posts