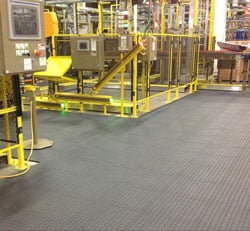 Is your business experiencing more sickness absence than it should, lower productivity than you might reasonably expect, and demands for higher insurance premiums? And do you know why?
A year-long ergonomics research study in one company showed that simply standing and moving about during a normal working day caused employees significant pain and discomfort, as well as costing the business almost £200,000 in lost productivity.
With Health and Safety legislation requiring employers to provide safety and ergonomic value to workers, a solution which not only helps you to be compliant but which also offers a positive return on your investment has to be worth considering. Particularly when the problem – and the solution – may lie right under your feet.
Worked off their feet
To prove the real value of a simple ergonomic solution, Wearwell conducted a 12-month survey at a manufacturing company which was rated highly for its wages and benefits, but which also experienced high injury and absenteeism rates – with absenteeism on Mondays being as high as 10%.
At the start of the survey, employees completed a questionnaire about the surface they stood on when working, and their level of fatigue and the level of fatigue and discomfort in their legs and feet before and after their shift.
Then Wearwell installed anti-fatigue ergonomic matting – an integral part of many Ergonomic and Safety Programmes.
Once the matting was installed, the employees were given the same questionnaire every month for a year, and the results showed significant improvements in injury and absenteeism rates.
Before the matting was installed, the:
injury rate was more than 3 employees / month

absenteeism rate was 5.2% (and up to 10% on Mondays).
After the matting was installed, the:
injury rate was less than 1 / month

absenteeism rate was 4%.
Stepping up the savings
The survey enabled Wearwell to put a cash value on the customer's investment in anti-fatigue mats, which showed the return on investment was significant. Cost savings through:
increased productivity = £190,080

reduced insurance premium = £38,016
The total cost saving of £228,060 was realised over the course of one year after the installation of the anti-fatigue mats.
The survey not only proves that anti-fatigue matting is linked to increased worker productivity and absenteeism, and that it can generate cost savings. It also shows that achieving compliance with Health and Safety legislation can generate a return on investment rather than simply representing a cost.
In addition to reducing fatigue and injuries to employees whilst they carry out their everyday tasks, ergonomic matting and flooring also offer slip and trip prevention and mitigation. Gritted versions are useful for wet and oily areas, and if a fall should be unavoidable, the softer surface of an ergonomic mat or floor will reduce the likelihood of significant injury.
ERIKS can help you to choose the most effective and appropriate Wearwell solution – whether that's anti-fatigue matting or ergonomic flooring – for your manufacturing facility, so you can realise these sort of savings and ROI in your own business.
You can read about the range of Wearwell solutions available by downloading the brochure here. Or to find out more simply contact your local ERIKS Service Centre on 0845 006 6000.
Related Posts