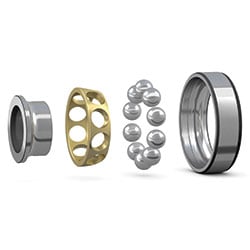 New bearing development from SKF that promises improved speed, reduced friction, better reliability, and longer service life for pumps.
Often to be found at the heart of a process or manufacturing operation, the ubiquitous pump is frequently taken for granted, being expected to operate continually while receiving minimal maintenance over the course of its life. A pump's performance will change over time, depending upon its operating conditions, its materials of construction, hydraulic design and mechanical robustness. From the perspective of mechanical design, bearings – and more particularly the type of pump motor bearings selected - will have a considerable impact on a pump's long term reliability, its energy efficiency and life expectancy.
A class above
Pump bearings can be subjected to high axial loads, high operating temperatures and mechanical vibration; in a high-intensity process or manufacturing environment, they are also likely to receive marginal lubrication. If these bearings are not able to fulfil one of their design functions, to minimise friction, this can result in power loss, excessive heat generation, increased noise or wear and early bearing failure. Where pump bearings are concerned, a combination of difficult operating conditions and fundamental design flaws may result in reduced uptime, poor or deteriorating performance and shortened service life.
Industrial pumps are some of the most common applications for angular contact ball bearings, and these are generally used in small and medium sized pumps due to their high speed capability and low friction. They are also used when high axial load capabilities are needed for greater pump operational reliability. SKF recently released an improved SKF Explorer class single row angular contact ball bearing that delivers a number of benefits for those designers and operators of pumps and compressors who seek to reduce the total cost of ownership of this type of equipment through improved reliability and energy efficiency.
Speed it up
Featuring a redesigned brass cage that delivers reduced noise and vibration levels and improved robustness, the 40° contact angle bearings significantly increase the limiting speed, up to 30% compared to the previous design. The new cage geometry and the use of stronger brass material reduce cage contact forces and increase cage strength, ensuring greater tolerance of shock loads d vibration, while delivering the significantly higher speed capability even under severe operating conditions.
In addition to the redesigned 40° contact angle, a new contact angle of 25° is also offered, giving the bearing a further 20% increase in speed over that of the 40° version, while enabling higher radial loads to be accommodated. In each case, the ball-to-cage contact arrangement allows cooler running and greater temperature stability, while noise and vibration levels can be reduced by 15% in both the 40° and 25° versions.
Sealed variants of these bearings are also available for applications that may be more difficult to maintain, preventing contaminants from entering the bearing during installation and subsequent operation. Sealed SKF single row angular contact ball bearings have an attractive combination of design features such as low friction non-contact seals that ensure the same load carrying capacity as open variants.
These sealed units are ready-to-use, being filled at the factory with the correct quantity of high quality grease, under clean conditions.
Sealed SKF single row angular contact ball bearings are suitable for bearing arrangements where, due to limited space or for cost reasons, external seals are not practical. Moreover, their favourable design characteristics save space axially, enabling a more compact machine design.
Match made in heaven
In terms of applications, for multi-stage centrifugal pumps the new 25° contact angle standard offers an upgrade to the hydrodynamic/floating radial bearings that typically support the predominantly radial loads in these units. For double-suction impellers or closed impeller pumps, the 25° standard provides cooler running, substantially reduced vibration levels and extended service life in applications with high radial loads.
By combining these two bearing angles the robustness of fluid handling applications or electric motors with vertical shafts can be improved. Bearing arrangements that include a 40° contact angle unit taking the main load, with a 25° unit acting as a back-up bearing offer this improved robustness for applications where the axial load is predominantly in one direction, resulting in longer service life.
SKF Explorer class bearings are the result of years of development and accrued expertise in bearing design, tribology, metallurgy, lubrication and machining techniques. The new 40° and 25° SKF Explorer class single row angular contact ball bearings are an attractive option for both manufacturers and operators of pumps who seek cooler running, energy efficiency and longer life bearings that will enhance brand reputation.
Related Posts