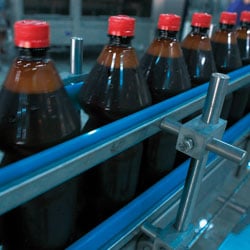 Air blowing activities consume almost half of all compressed air used in plants and can often become an unrecognized burden on a business's resources.
A large soft drinks manufacturing businesses, took a proactive approach to reduce this consumption by utilizing a new air saving solution. In doing so, they benefited from a substantial 45% reduction in compressed air consumption.
With many production lines across the country, the soft drinks manufacturer is continually looking for ways to improve their performance and social responsibility, and approached Parker to provide a solution to help them reduce their air consumption in their manufacturing processes.
Integrated Energy Saving Solution
Parker recommended their Air Saver pneumatic valve as the ideal way to reduce energy consumption, decrease production costs and align the business with their CSR development strategy. As a totally integrated solution, the Air Saver system, comprised of the ASC500 Air Saver valve, Global FRL Air Preparation System along with tubing and connectors, delivered a significant saving on their compressed air consumption and CO² emissions.
Designed to maximise the removal of particles more efficiently in PET bottle plants, the ASC500 Air Saver unit can be utilised in a range of ways. During the blow moulding process, each blast of the pulsing ionised blow agitates unwanted waste particles for more efficient removal and reduced cycle time. Plus it can also be utilised for an assisting blow to convey bottles, as an escape blow for when the line has stopped and before pasting labels on them; delivering greater production line efficiency, increasing plant productivity and overall quality.
Innovative Pulsed Air Technology
Utilising innovative pulsed air technology to reduce air consumption and improve plant efficiency in air blow applications, at its core is a switching valve that converts continuous air blow into a more effective pulsed air blow without the need for any additional external control. Put simply, it creates air that is blown in a series of high speed on and off pulses; when the blow is off, there is no air consumption, resulting in fewer tank recharging cycles.
Alongside benefiting from a more efficient particle removal solution, the drinks manufacturer saw a sizable 45% reduction in air consumption and associated costs for energy use. With no changes to the PLC program, the Parker Air Saver Unit has proven to be a cost-effective solution that was retrofitted to their existing production line, providing an immediate reduction in air consumption without any further cost outlay.
For further information on the Parker Air Saver Unit contact your local ERIKS Service Centre on 0845 006 6000, or download a copy of the brochure below.
Related Posts