Protecting your employees is key, ensuring the correct Personal Protective Equipment and Spill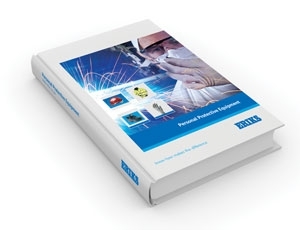 Control is in place, safeguards your employees futures.
ERIKS has an extensive range of personal protective equipment, from safety footwear and eyewear through to ergonomic matting and respiratory masks. Each and every one of these products is as critical as the other, and in all industries ERIKS knows that safety always comes first.
The PPE Catalogue
For the first time ERIKS UK are bringing all our knowledge and products together regarding PPE and Spill Control into one place. The brand new PPE catalogue was officially launched at the Hillhead 2014 exhibition!
The 350+ page catalogue offers both site and health and safety managers an all-encompassing access point to a range of equipment and products from many well-known brands such as Honeywell, Ansell and 3M, along with RX Safety Products, which exclusively available to ERIKS.
This access point creates an easy way for any managers to acquire all they need to protect their employees from one source. Working alongside our partner suppliers in this catalogue we ensure you: conform or exceed the latest legislation; adopt best practices and ensure you can maintain a safe and comfortable working environment.
Current Legislation
ERIKS also takes into consideration current legislation regarding personal protective equipment and to ensure you keep up to date with what your staff must wear and use on site, each section in the PPE catalogue has a relevant legislation section as a point of reference for Health and Safety standards.
Every legislation page is tailored to the products which are included within specific sections of the catalogue to guide customers on the most appropriate choice for their site, given its size and potential risks to employee health and safety.
For more information about the Tools & Maintenance offering visit: