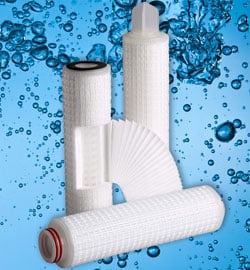 If you operate in the Food and Beverage or water sectors, and you use water anywhere in your process, you could be putting your customers at risk of a fatal infection.
The cryptosporidium parasite – which can be found in water systems – can cause a gastrointestinal illness called cryptosporidiosis. Symptoms include diarrhoea, vomiting and stomach cramps that can last up to three weeks even in a healthy adult. For the young, the elderly, or those with a compromised immune system, the condition can be more serious still – and potentially even fatal.
The parasite was in the new late last year, and in the water supply too, in Lancashire, where hundreds of thousands of homes have been affected. United Utilities, the water company involved, is likely to be faced with a huge bill for compensation, not to mention the negative publicity it has faced for a week as a result of the contamination.
If you want to avoid a similar situation, the solution is to protect your plant against the possibility of cryptosporidium contamination, using a simple, reliable, cost-effective filtration system.
Water = danger
Whether you use water for product make-up, for rinsing food (such as salads) or for washing equipment, it has the potential to contain the dangerous parasite, and that means the potential to:
H

arm your customers

Damage your brand reputation
Cause severe disruption to production
Result in serious financial loss.
To avoid all those potential problems, many plants in the Food and Beverage sector are now introducing cryptosporidium control into their process operations.
One of the simplest methods chosen is a highly effective filter, such as the Amazon SupaSpun II or Amazon SupaPleat II.
Absolute removal. Complete protection
Both Amazon filters have absolute removal ratings – which means they provide consistent and reliable performance, removing all traces of the parasite and leaving you with clean water for your process.
The SupaSpun II filter is available made from either polypropylene or Nylon 56, offering wide chemical compatibility. It's also manufactured with a thermal bonding process which minimises media migration, and ensures minimal extractables. It provides:
G

raded density structure for maximum dirt-holding capacity
Increased void volume, for high flow rates and low initial pressure loss
Absolute ratings from 0.3 - 180µm (Beta Ratio 5000).
The SupaPleat II filter offers a choice of different constructions to suit different needs and applications:
PP – 100% polypropylene for wide chemical compatibility, meeting FDA requirements
XP – extended-life version for more challenging applications
GP – glass microfibre media providing excellent dirt-holding capacity
MP – nylon monofilament mesh for selective retention and the facility to be
Just like the SupaSpun II, the SupaPleat II is manufactured using a thermal bonding process, which eliminates adhesives and ensures minimal extractables.
The filter is rated cryptosporidium grade (CRY) with a typical 104 log reduction value. Batch traceability is an additional benefit.
You can discover more about filtration to remove this dangerous parasite, by clicking the dicument below.
Alternatively, for more information on Amazon Filters, please contact the ERIKS Fluid Power office on 02476 233 700, or speak to your local Service Centre.
Related Posts