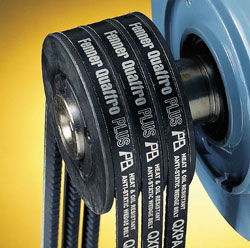 The belt drive is a key part of the power transmission set-up. Which is why an inefficient belt drive can have such a negative effect on productivity.
And if you don't think that applies to your own situation, you should be warned that no less than 70% of belt drives are estimated to be – at best – performing inefficiently and – at worst – in danger of failing.
However, by taking a proactive attitude to belt drive maintenance, you can not only prevent premature failure, but also actually increase productivity.
3 Steps to Increased Productivity
Based on more than 150 years of power transmission experience, Fenner – manufacturers of the most comprehensive range of friction belts available – have identified three simple steps you can take now to assess your belt drives, rectify problems, and quickly realise the benefits in terms of higher productivity.
All you have to do is follow the steps below, sooner rather than later. Because later could be too late.
Step 1: Check Pulley Condition
It sounds obvious, but like so many obvious things is often overlooked. Yet the fact is, just by checking the condition of a pulley, you are immediately putting yourself in a position to improve the performance efficiency of the related drive.
When engineers replace a belt, that is often literally all they do. As a result, 50% of new belts are fitted to worn pulleys, leading to a 10% wastage of energy input.
Using a gauge such as the Fenner Groove Gauge to check pulley wear can help to ensure your belt drives deliver maximum efficiency. Request your free groove gauge.
Step 2: Select the Correct Drive Solution
Depending on the condition of the pulley and of the belt, you have a number of different courses of action you can take and a choice of drive solutions you can make.
Firstly, if both the pulley and the belt are worn, you face imminent failure and should immediately replace at least the belt. If you choose a Fenner Ultra PLUS belt, you can expect more than a year's satisfactory performance and productivity before you need to replace the belt again and consider replacing the pulley. However, if you upgrade to a Fenner Quattro PLUS you can expect more than 18 months' service life. Or choose the Fenner Ultra PLUS 150 for even longer service: more than 2 years in most applications.
If the pulley is relatively unworn, but the belt is worn, the belt will fail sooner rather than later.
If this is the case, replacement with or upgrade to:
A Fenner Ultra PLUS belt will give you more than 3

years' service life

A Fenner Quattro PLUS belt will give you over 3½

years' service life

A Fenner Ultra PLUS 150 will give you more than 4 years'

service life

Step 3: Install Correctly
Even the newest, most carefully chosen belt and the least worn pulley will not deliver maximum efficiency – and will fail prematurely – if they are installed incorrectly. With the aid of the right tools – such as the Fenner Drive Alignment Laser - you can ensure your belt drive is increasing your efficiency and productivity, not your problems and costs.
You can find out more about Fenner Friction Belts here or contact your usual ERIKS service centre.
Download a copy of the latest Fenner belts flyer from ERIKS below.
Related Posts