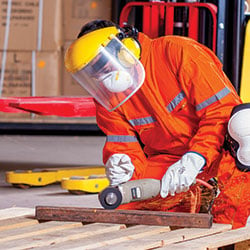 Personal Protective Equipment is a mainstay of many sites and operations up and down the country, not least in the industrial manufacturing sectors. While the Health and Safety at Work Act and the PPE Equipment at Work Act make the employer's responsibility for the provision of the correct equipment clear, enforcing it and ensuring compliance across the workforce, can prove taxing.
There are a number of roles and equally applications that demand the use of PPE equipment every day. However no matter how many controls and safe systems of work that are in place, there are ultimately some hazards that cannot be controlled - the risk to people however can be mitigated.
For businesses however, there can be a number of persistent problems in terms of providing employees with the right equipment, when they need it and where they need it and that's before even recording staff compliance. Whilst it can be difficult to guarantee one hundred per cent employee engagement with the health and safety policies of the site, it remains the responsibility of the employer to ensure adequate access to equipment and, to record compliance. Needless to say, in the event of an accident these records will be required and can help to determine whether the incident could have been prevented.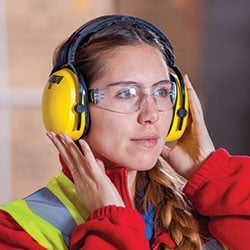 PPE distribution
For many businesses, PPE equipment may be distributed in the same way as parts and spares – via a counter and a stores person, some may not even have the latter. In this situation employees are required to collect their own safety equipment, when they need it with a fairly simplistic logging process. While the solution may be straightforward, it does have a number of potential flaws, namely:
Location - a central storeroom is often located away from the operational floor, meaning that it is away from the day to day path of workers. Location can sadly mean the difference between them replacing a pair of gloves with a hole in them and leaving it for another day, when they have more time.
Human error – one pair of gloves can look very similar to another, yet the purpose can be varied and safety can be called into question if the wrong pair is supplied. The same can be said for a number of items.
PPE is not a one-size-fits-all solution - PPE equipment can come in a variety of sizes and ill-fitting equipment can be as much of a health and safety concern as none at all.
Accountability and logging - in storeroom facilities, it can be difficult to monitor the quantity of equipment an employee has direct access to and equally a log on what they should and shouldn't be using day-to-day.
When you consider these factors it's easy to see how the provision of PPE can be a financial burden on a company, particularly when employees use the stores facility regularly for lost or forgotten items. The problem is then compounded if a poor or, worse still, no auditing system is in place, as there is little chance of documenting compliance and where the gaps are.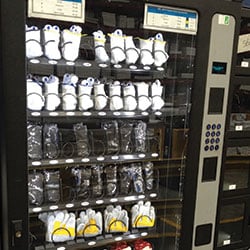 Another solution
There is however one potential solution in the form of a new technology offering - the PPE vending machine. Vending machines per se are not a new technology but, with the ability to have access control via devices such as a dedicated employee swipe card or key fobs, it is possible to ensure all employees are wearing the correct PPE and that each and every dispense is recorded for greater accountability.
Where the technology really comes into its own, is the ability to tailor an individual's access to ensure they can only withdraw the PPE that is suitable to their job and therefore avoid the risk of equipment not being strong enough or designed for the role in hand.
Similarly, electronic access offers a traceable record of how often employees collect PPE, making it easy to monitor those who make numerous dispenses and those not updating it as regularly as they should.
Considering another employee barrier to engagement – the location of the stores facility - vending machines can also offer a solution here. Employers have greater flexibility in terms of where they can place the machine, ensuring it is in the line of sight of employees on their way in and out of the workplace, encouraging engagement and ultimately compliance.
Another further advantage for companies seeing a high turnover of PPE equipment, is to enforce an authorisation level i.e. management, for some of the more costly pieces of kit. This measure helps to keep costs down as it means equipment can only be replaced for genuine reasons such as wear and tear, rather than because equipment is lost on a day-to-day basis.
Needless to say the core responsibility of employers is to provide the right equipment to the right individuals and speed is an important consideration. Where companies can offer quick and easy distribution of the full range of PPE equipment, in a convenient location, they will also increase the take-up of PPE equipment. But the benefits don't stop there. For employers, it is also possible to reduce the cost of providing PPE equipment, through much closer control and accurate, automated record-keeping.
While the right equipment for the job must be the first and most important step, it should not be the only factor when considering PPE distribution in the workplace. With so much to offer, vending machines can provide a valuable alternative for businesses, carefully balancing Health and Safety requirements, compliance and potential cost savings, in one.
For more information about ERIKS UK and the latest vending machine offering it provides, please visit www.eriks.co.uk.
Related Posts