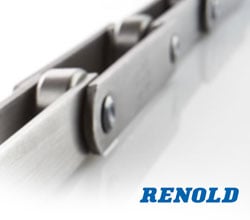 High-quality, precision chain is essential in many materials handling applications. Often, the chain is critical to precise positioning – for filling, labelling or sealing. And it may have to run as matched and paired strands, with perfectly aligned attachments.
With constraints like these, expert help and advice can be crucial to finding the perfect solution.
Perfect alignment of attachments is relatively easy to achieve with new chain. But to maintain that alignment throughout its working life, each strand of the chain has to wear at exactly the same rate. If it doesn't, production could be affected, product damaged, and costly downtime incurred.
And for manufacturers who may cost-out their downtime at up to £50K an hour, choosing anything less than premium quality chain is clearly a risk not worth taking.
A Weighty Problem
When a leading manufacturer of fire retardant panels and cladding needed a new conveyor system, they contacted the Renold Technical Team for expert advice.
The conveyor was needed to carry wet boards weighing 280kg each, in trays weighing 80kg, into an oven heated to 180°C. So it was obvious that a bespoke solution was required.
The Technical Team designed two strands of six-inch pitch, solid-pin conveyor chain, with special K2 attachments on each pitch. The two strands of chain run parallel to each other, perfectly aligned so that each pitch matches its counterpart on the other chain, at all times. A series of wickets – one on each pitch – is attached to either side of the twin stranded chain conveyor, to support the metal trays.
There are 284 wickets in total, and the total weight of the chain plus the wet board is 1,837kg/m. But after the board has been oven-dried, the total weight drops to 656kg/m.
To cope with the high temperature in the oven, a special graphite lubricant also has to be used.
The Tension Mounts
To carry the trays correctly, the pitches with the wickets must stay exactly opposite each other at all times. This means chain wear has to be identical on both sides, along the whole 43m conveyor.
The expansion and contraction of the metal components as they pass into and out of the hot oven means that a sophisticated chain tensioner has had to be incorporated into the design. This also takes chain wear into account, and is designed so that the chain is replaced when wear to each pitch
reaches 1.25mm.
This kind of precision conveyor and transmission chain from Renold is found in a huge range of materials handling applications, with a wide variety of attachments, performing countless different functions. So whether you're operating production machinery and equipment, or conveying applications to move goods around, you can be sure Renold chain will give you the reliability, low maintenance and high performance you're looking for. Pitch perfect every time.
For further information contact your local ERIK Service Centre on 0845 006 6000 or drop us an email with your enquiry, click here.
Related Posts