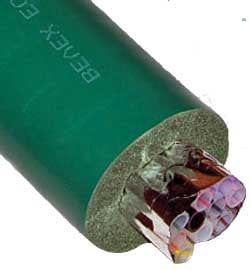 When you need a python for a beverage application, AS Rubber has a wide range of BevEx brand pythons, to meet a huge variety of requirements and regulations.
BevEx Standard Pythons meet the requirements of brewers and soft drinks companies, and other applications with soft drinks, water, wine and spirits. The products comply with all relevant regulations, from the FDA code to the EU "Plastic Materials and Articles in Contact with Food" Regulations, and the BBPA QAS 3244 for brewers and licensed retailers.
For energy efficiency, the Energy Plus Python provides improved thermal efficiency, making it ideal for super-chilled beverages. It helps maintain a more consistent beverage temperature, appearance and taste, and up to 20% greater energy efficiency than a standard python.
The BevEx Coated Python is anything but standard – offering durability, fire performance and flexibility, with a Class 0 fire-rated surface.
Also performing well in the event of fire is the BevEx Eco Python. With a total absence of toxic material in its foam composition, any fumes given off during a fire are not only transparent but also non-toxic – making it ideal for environments with particular safety requirements, such as ships, airports and sports stadiums.
AS Rubber also manufactures the AS 502 PVC Nitrile closed cell sponge. A natural inhibitor of bacterial growth, it is available as a sheet (for greater gasket cutting versatility) and in a continuous roll, strips or gaskets. It has good oil- and weather-resistance, as well as fire resistance conforming to BS476 parts 6 and 7, Class 0. Its temperature range is an impressive -40 to +116°C.
Related Posts