NORRES Schlauchtechnik presents its widel expanded range of permanently antistatic hoses in its anniversary year. These hoses provide a permanently constant conductivity without any migrating antistatic agents.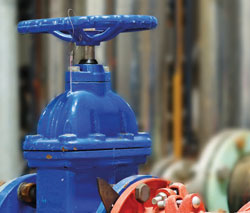 A property which strengthens the reliability of these hoses in the everyday use of bulk goods and at the same time substantially extends the areas of use.
125 and Counting
In its 125th year, NORRES Schlauchtechnik has committed to 125 innovations to mark the anniversary.
Originally a manufacturer of mining fuses, the company began producing technical hoses and hose systems, cable protection systems and environmental solutions in the 1960s. Now they aim to lead the way in hose design and technology for their next 125 years.
Norres permanent antistatic hose solutions are designed for bulk materials transportation and suction. Extremely abrasion-proof as well as permanently antistatic, the hoses maintain their reliability throughout their service life, and offer a wider range of uses for a greater variety of bulk goods.
Tougher than Rubber
While rubber hoses might be the default choice of many, they are far from the most effective option for transporting abrasive solids at high flow rates.
For these applications – such as fibres and chips – as well as for transporting powder and dust, the PROTAPE® PUR 301 AS has a flow-optimized wall of permanently antistatic premium polyurethane. Its abrasion resistance is 2.5-5 times higher than most rubber materials, which gives it a much longer service life – even when handling abrasive solids every day. This means less frequent hose replacement, lower maintenance costs and less downtime.
There's no premium to pay for this performance either. The antistatic lining is available ex-warehouse at no additional cost, providing an electrical and surface resistance of < 109Ω.
Permanently Antistatic Plastic
It's not only heavyweight or abrasive materials which can be tough to transport successfully.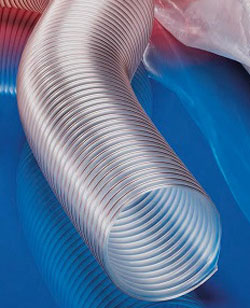 Paper and textile fibres, for example, cause their own particular problems, through the build-up of static that they create. However, NORRES have the answer, with the NORPLAST® PUR-CU 385 AS hose.
This light suction and transport hose is made entirely of plastic, and supplied ex-warehouse in a permanently antistatic form.
Fitted with a grounding wire, it is conductive in accordance with TRBS 2153, as well as being abrasive-proof. Its permanent antistatic property makes it is especially suitable for use in de-dusting and suction plants, in industrial vacuum cleaners, and for suction of paper and textile fibres.
Also permanently antistatic is the flexible, light, NORPLAST® PUR 385 AS hose. This fully-plastic hose is a new addition to the NORRES range, suitable for transporting dust, powder or fibres. For applications where a heavier plastic, but still permanently antistatic, hose is required, the NORPLAST® PUR-CU 386 AS is now available with a non-migrating antistatic agent as standard. It comes with a grounding wire, and is conductive in accordance with TRBS 2153. For transportation of abrasive solids with high flow rates – in industrial vacuum cleaners, pellet conveying systems, blowers and compressors, for example – this permanent antistatic version provides a new solution to suit even more applications.
As Safe as Hoses
The wrong hose can have far-reaching effects both on productivity and – even more worryingly – on safety.
If a non-antistatic hose is used, transporting small quantities of solids can easily lead to electrostatic charging due to friction on the hose wall and within the medium itself. This can lead to a malfunction of the transport process – for example, in the electronic measuring and control devices involved in the process.
If sufficient static is created from friction, it can seek the first available discharge point. The real danger arises when this happens to be a human body – such as the operator's – which comes into contact with the hose or connected equipment. This has serious safety implications – either due to the power of the discharge itself, or due to the reaction of a startled operator hit by a discharge.
The most effective measure is to prevent the problem in the first place, rather than simply protect against its effects. Choosing the correct permanently antistatic hose from NORRES ensures safety, reliability, long service life and lower costs.
More Hose for Your Money
When you choose NORRES permanent antistatic hose solutions, you don't just get a length of hose. You also get a length of experience and expertise going back 125 years. So you can be sure of a solution which is tried, tested, and effective.
You can also be sure that there will be many more innovative NORRES' solutions to come, to help you keep your hose transportation efficient, reliable and safe.
Related Posts: