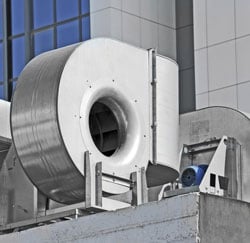 It's natural to look for ways to optimise your assets. But have you ever thought about the fact that it's your engineers who keep those assets performing at their optimum?
So an unreliable, inefficient asset creates an overworked, underproductive, inefficient engineer. And an engineer who's spending too much time resolving unplanned problems isn't spending enough time on maintaining your smooth-running, efficient production.
By optimising your assets, you're not only increasing their reliability, efficiency and productivity. You're also freeing-up engineers for more useful and productive tasks than helping a poorly-performing asset to limp along to its next breakdown.
Keep on keeping on
Complacency about the performance of some factory floor assets – such as fans – is all too common, and they're left to get by with minimum maintenance and minimum interference,.
But just because an asset is performing doesn't mean it's performing at its best. And even while it appears to be doing its job, its Total Cost of Ownership could be climbing unnecessarily high, and fast.
It's not only unplanned downtime for repairs that needs to be taken into consideration. It's also the planned downtime for an asset which needs more frequent maintenance than it really should.
So while it may seem that keeping a fan system limping along is the easiest answer, replacing it with a more reliable asset would mean:
Less likelihood of breakdowns

Longer operating periods between scheduled maintenance downtime

Increased air throughput for your application

A longer service life that helps to reduce Total Cost of Ownership.
More, for less
The purchase price of an asset it only part of the story. And for a fan, it's not even the most costly part.
The energy costs of running a fan – especially one which operates 24/7 – mount up to far more than the initial cost of purchase. So although it sounds counter-intuitive, you can often save more by spending more. Or in other words, you can cut your ongoing costs by investing in a more energy-efficient fan. Even if it means a bigger initial outlay to purchase it.
The latest high-efficiency equipment:
Has fewer losses

Can maintain the throughput you need at a lower operating speed

Uses less energy to achieve the same productivity.
Reduce your maintenance
Reduce the maintenance on an existing asset and you're asking for trouble. But the latest designs are actually engineered for less maintenance, to save you time and money.
They're quicker and easier to maintain, with less equipment. So scheduled downtime for maintenance is minimised, and associated costs and loss of productivity are reduced.
It's even possible to eliminate some maintenance tasks completely. Not because they don't need doing, but because they can be done automatically. Greasing is just one example of a regular maintenance task that can be automated, so your engineers can spend less time on this and similar routine tasks, but your assets will still be performing at their optimum.
ERIKS Fan Services can provide help and advice on every aspect of fan choice, maintenance, repair, replacement and upgrades, as well as offering a range of the latest asset designs to give you greater efficiency and lower operating costs.
And don't just think of us as helping you to optimise your assets. Think of us as optimising your engineers too.
Take a look at our Fan Solutions brochure and disocver how ERIKS can help you achieve optimum performance. Click below to download a copy.
Related Posts