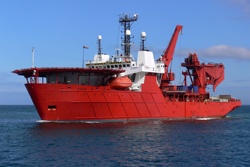 An equipment component failure out at sea may not send a vessel to Davy Jones' Locker, but it can certainly make an expensive dent in a treasure chest. However, a 16-channel online condition monitoring system from ERIKS UK saved the day recently, when put to the test on a diving support vessel.
Contracted by a large shipping company to carry out condition monitoring on a fleet of these vessels, ERIKS UK installed and commissioned a monitoring system on the azimuth thrusters of one of the vessels, which had been suffering premature failures of this equipment. This has previously led to costly repairs, dry docking charges, and loss of hire.
Based on historic data gathered over the previous 12 months, the online systems were designed to trigger a warning or alarm when pre-set levels were breached.
Which is exactly what happened when the vessel was on location with divers, working on an important project.
Long-distance engineering
Mid-project, simply stopping the machine – or even carrying out an inspection – weren't options.
But cloud-based connectivity meant that ERIKS UK condition monitoring engineers could study live data from the machine, even while the vessel was hundreds of miles offshore. And by analysing the data, they established it was the NDE bearing which was showing wear and defects.
Alarm levels were adjusted for closer monitoring, and these were frequently triggered throughout the following week. However, with only two days to go to completion of the project, stopping the machine was still not an option.
Instead, the engineers recommended limiting the machine's speed, to lower the load on the bearing.
Plain sailing
As a result of the remote condition monitoring and the input from ERIKS UK engineers, the project was completed on time and the vessel returned safely to port for the bearing replacement.
Because a catastrophic failure had been avoided, the replacement was a simple job, carried out during the scheduled 12-hour crew change. So the vessel sailed again next day, with no delays, no down time, and no large repair costs.
To discover how ERIKS Marine Solutions can help you, visit our ERIKS Waffle Corner (stand number 120) at IMPA 2015, 9th and 10th September, QEII Centre, Westminster, London.
To read more case studies on condition monitoring in the marine industry, click here.