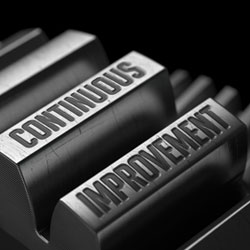 I'm not one for drawing parallels between sport and business. I struggle to see how Sir Alex Ferguson's team talk at half-time in a Champions League Final can be transferred into a factory production planning meeting or how Clive Woodward's strategy for winning the Rugby World Cup is comparable to gaining competitive advantage in the water industry.
But, I must admit that I've recently got very interested in cycling. Don't get me wrong, I haven't gone out and bought a bike and there is no chance of anybody seeing me in lycra, but you have to admire what British cycling has done in recent years.
Let's just put this into perspective for a moment. If you had predicted ten years ago that there would be three British winners of the Tour De France in a four-year period, people would have laughed at you.
British cycling was nowhere. We had virtually no history of winning international competition. Getting 'on yer bike' was something that a few people did to get to work and a very small minority did in their spare time.
The Mastermind Behind the Success
The really interesting thing is how Sir Dave Brailsford, the mastermind behind the success of British cycling, did it. There was no blinding flash of light and cry of 'Eureka' heralding a brilliant innovation, which immediately catapulted UK cycling into the forefront of the sport.
Instead, Brailsford did it by what he calls 'marginal gains', in other words the little things that grouped together deliver real competitive advantage. In fact, Brailsford does not regard himself as an innovator, he refers to the process by which Team Sky became the predominant cycling team in the world as "continuous improvement".
Sir Dave's search for continuous improvement went everywhere, from the nutrition of the riders, to their training programmes and bike seat ergonomics, through to the pillows riders used to sleep on and the type of massage gel used by team physios.
Which, despite my earlier scepticism, is where I draw a direct parallel with industry. Because, although methods like Six Sigma and condition monitoring are gaining traction, too little time is still spent on continuous improvement processes. Too little time is spent looking for that one per cent gain in machine performance which, allied to the use of a new bearing, a different maintenance schedule and more regular calibration, could improve performance, by not just one per cent but by five, six or even ten per cent.
Unlocking Productivity Improvements
Which begs the question, what if we released our maintenance teams from the reactive and unplanned and asked them to identify the marginal gains which could deliver real productivity improvements? What if we spent less time looking for an innovation 'magic bullet' and more time working with what we have and just making it perform better?
It will be a long time before you see a maintenance engineer on a podium on the Champs Elysees, holding a bouquet of flowers whilst being sprayed with the finest champagne, but those at the sharp end have it in their abilities to make the sort of marginal gains which could make British industry as competitive as British cycling.
Related Posts: