Thank you to all who visited the ERIKS UK stand over the duration of this year's Hillhead exhibition.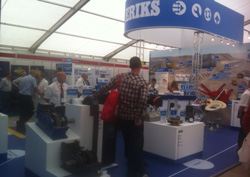 We really enjoyed showcasing what we have to offer for the Quarrying, Recycling and Construction industries and hope that those of you who visited the stand found it interesting and informative.
For those of you who didn't make it to Hillhead or missed our stand here is a round-up of what featured on our stand this year:
Condition Monitoring
One of our main focuses on the stand was the latest innovations within condition monitoring and predictive methodologies. We showcased our Asset Guard Plus, which is an advanced system that can monitor and investigate issues on assets remotely when connected to the ERIKS Know-how Cloud, allowing maintenance teams to review the data and make a plan of action before even entering the site. Click here for more information on the
Drives and Power Transmissions
Our technical team from the Drives Core Competence Centre were showcasing the Fenner Ultra PLUS 150 wedge belts which have been designed and tested to deliver unbeatable strength, increased durability and service life for maximum drive efficiency in harsh environments. Click here for more information on
Our Drives core competence centre demonstrated our Total Cost of Ownership Calculator which aims to guide you through the repair, replace or upgrade choice challenge. Below is Nigel Jones, Drives Sales manager demonstrating the TCO calculator. MOre information can be found here
Vending Solutions
We were also showing how you can optimise your engineering stores with ERIKS Vending Solutions. Vending technology provides a time effective storage solution, which allows easy access to PPE adhering to new legislation, alongside allowing you greater control with easily managed stocks. Click here or more information on
Bearings
On our bearings plinth we were encouraging visitors to see how fast they could fit a split roller bearing, and more importantly discover how much quicker and simpler it was to fit. Click here for more information on
We were also showing our selection of bearings and grease that were suited to the quarrying industry.
Below you can view the video of Chris Ager, Revolvo Technical Manager, demonstrating how quick and simple it is to fit a Revolvo Split Roller Bearing.
PPE
We officially launched our brand new Personal Protective Equipment Catalogue at Hillhead 2014. It is the first time we have created a fully comprehensive catalogue for the PPE range, making it a one stop shop for necessary PPE. The catalogue also aims to help industry professionals conform to the latest legislation and regulations. Click here to request your copy
RX Spill Control
Another great solution for the quarrying industry we were exhibiting was our spill control. There were demonstrations throughout the day showing how quick it is to deal with spillages on-site, ensuring quick simple clear up. Click here for more information on
Pumps
One part of our Pumps showcase was our Pump audit capabilities. The Pump Audits can identify improvements to the system efficiency and reliability ultimately improving site production. It also allows condition monitoring of the pumps, preventing costly breakdowns. Click here for more information on
Fluid Power
Our Fluid Power core competence centre was demonstrating their repair or replace offering on all Bosch products. All Bosch repairs are overseen by ERIKS to ensure the highest quality. Click here for for more information on