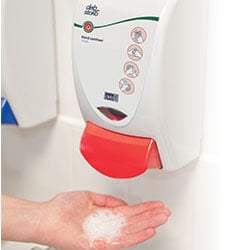 It's been drummed into us all since childhood: after you've used the lavatory, wash your hands. It even used to be printed on the toilet paper. This kind of hand hygiene practice is important wherever you are. But in the industrial environment it shouldn't stop at the lavatory door.
If you're in the food processing industry, then hand hygiene is non-negotiable across the entire factory floor. Yet even in other production processes, there's more importance to clean hands than simply good manners and what our mothers taught us.

It's also a matter of health and safety, and of protecting employees from the second most common occupational health problem: skin disease. A health problem which can cost manufacturing nearly 40,000 working days in just one year1.

It's clearly not a problem you can wash your hands of.
Just Add Water?
Soap and water may have been enough in the days when toilet paper was cut up copies of The Daily Mirror. But greater understanding of hand hygiene, and even – conversely – of the problems posed by too much handwashing, has led to the development of more effective and less harmful solutions.

The fact is that preventing occupational skin disorders and work-related hand eczema – whilst at the same time maintaining the necessary hygiene standards – demands more than just soap.

Skin needs effective cleansing, thorough sanitising, and protection too.

Deb Stoko, for example – the world's leading away-from-home skincare provider – offers a complete range of products to address the needs of all types of employees in all kinds of working environments. The range makes possible a comprehensive three-step skin care plan, which is effective whether your employees are making jam tarts or wind turbines, and whether they're working on a factory floor or a quarry floor. In all cases, the plan is the same:

Protect the skin before it comes into contact with any contaminants, using a
perfume-free, non-greasy cream, which protects against water-based and
non-water based irritants.

Clean the hands thoroughly to minimise skin irritation, using effective
products to wash away any dirt and grime that comes into contact with the
skin.

Apply a carefully formulated after-work cream to restore and replenish the
skin.


Skin Care? Don't Care.
In spite of the huge range of highly effective products available, occupational skin disorders and work-related eczema haven't disappeared. And part of the problem is the people on the other end of the hands.

Skin care is not a top priority for most employees, and – once they leave the lavatory – not something they tend to think about.

Fortunately there are ways to help them change their behaviour and look after their skin.

For example, protection and cleansing products don't have to be relegated to the lavatory. A dispenser outside the restroom door can help to make applying the product an automatic part of the daily work routine.

Education also helps. But that means more than simply repeating the same message over and over until it's ignored. It means providing useful information that helps people to understand:

Why hand care is important

The risks of not following best practice

How to take care of their hands using the products provided.

As the old saying (almost) goes: give an employee a bar of soap and you keep their hands clean for five minutes. Give them education and a complete hand care regime and you protect them against occupation skin disorders and work-related eczema for life.

Your usual ERIKS Service Centre can help you to find out how.

1. 2013
Related Posts